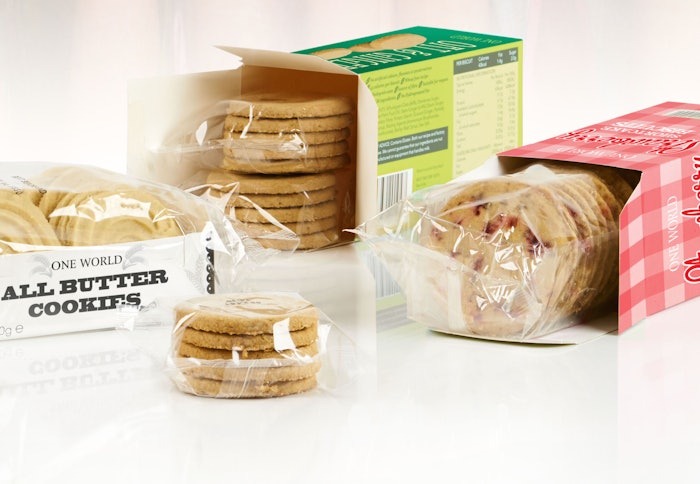 Innovia Films has launched its first BOPP film that has been officially proven to provide up to 1.5 years protection from mineral oil migration – Propafilm RCU. Its development has been the result of proactive investigation into the mineral oil hydrocarbon (MOH) and mineral oil aromatic hydrocarbon (MOAH) barrier protection of their films. It included the evaluation of films with multiple laydowns, increased coat weights and one-side/two side variations.
This work commenced after earlier studies by Dr. Koni Grob, from the official Food Control Authority of the Canton of Zurich, Switzerland identified that foods were being contaminated by migration of mineral oil from paperboard packaging. Further studies by the UK Food Standards Agency highlighted that safe levels were frequently exceeded in food packaging samples that were tested.
Traces of mineral oil residues in food are thought to arise due to their migration from the printing inks present both on the packaging surface and in recycled newspapers, used in the production of cardboard packaging. Most commonly used newspaper inks contain mineral oils. These cannot be removed sufficiently during the recycling process and are thus able to enter cardboard food packaging. Even at room temperature these residues can migrate and be deposited on dried foods packaged in the box, such as pasta, rice, breakfast cereals and biscuits. MOAH are suspected of being carcinogens, according to the World Health Organization's Joint Expert Committee on Food Additives (JECFA), and the UN's Food and Agriculture Organization (FAO).
The film, besides offering excellent barrier, has superior optical properties, a low sealing threshold and a broader sealing range which makes it ideal for use in a variety of markets (biscuits, bakery, confectionery, dried foods, tea and cereals).
Andy Sweetman, Marketing Manager Packaging & Sustainability for Innovia Films, says: "It is exciting to be able to offer the market a cost effective versatile film that ensures proven protection for dried foods. It is printable and can be used on a range of machines, including vertical and horizontal form-fill-seal (VFFS/HFFS). Propafilm RCU is ideal for pre-made bags and lamination to other films. This BOPP film offers the market a complimentary alternative to our NatureFlex film that provides up to five years protection. It means we have a product to meet a wide range of shelf life requirements."
Companies in this article