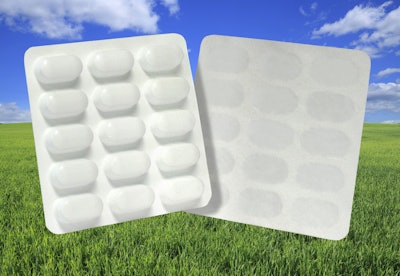 ECOmply breaks down only under favorable anaerobic conditions typically found in landfills.
The films have the same thermoforming parameters as standard PVC film, so modifications to existing blister machine equipment are unneccesary. ECOmply films can be used with all common aluminum lid foils or CR foils with standard sealing parameters.
ECOmply films are available in clear, color, and opaque, as well as a special "paper lookalike" version providing a tangible eco-friendly perception to the blister pack.
ECOmply is recommended for use with Bilcare Nova--a specialized paper-based lidding solution--but also can be used with standard foil-based lidding. When used together, they combine to form ECOmply Pack, which provides protection for low-sensitivity capsules, pills, and tablets. For highly-sensitive products, ECOmply can be paired with PVdC-coated barrier films and Aclar laminated high-barrier films for maximum protection.
Companies in this article