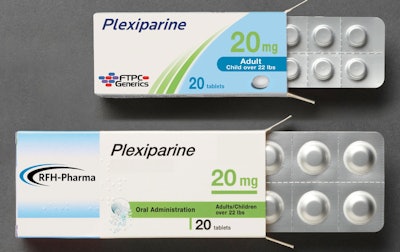 The film is pharmaceutical-grade PVC with proprietary additives that give it a shiny, smooth foil-like appearance.  ALU-LOOK films meet all US and European compliance requirements for food and pharmaceutical product contact.
ALU-LOOK's  primary application is for laminations to PCTFE films (Aclar® or VapoShieldTM), giving it superior moisture barrier properties to protect hygroscopic contents.  It offers all the benefits of conventional PCTFE laminates, like a wide barrier range and the ability to run on standard thermoforming equipment. It also provides protection from UV and visible light. And it mimics the visual characteristics of cold-form foil--but without the need for cold-form foil's larger blister formats, expensive tooling and reduced packaging speeds. It can also be used as a mono film with no substantial changes in properties as compared to clear poly-vinyl-chloride (PVC).
ALU-LOOK is a drop-in solution--it runs smoothly on all standard form-fill-seal blister packaging equipment. This is also true for the lidding foils sealing to the ALU-LOOKTM films--the forming web accepts all standard lidstocks that seal to PVC.  When compared with other packaging options such as cold-form, ALU-LOOK is said to provide increased options, because it is available in a broad range of barrier properties, from low/medium to ultra-high when applied to PCTFE laminate options. 
Companies in this article