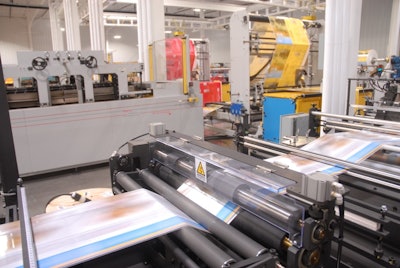 Morris Packaging's Missouri manufacturing plant, Morris Converting, has been awarded Safe Quality Food (SQF) Level 3 certification—the highest level in the SQF program.
The Global Food Safety Institute (GFSI) recognizes SQF as a meticulous and credible food safety management system that is respected by food retailers and manufacturers of consumer packaged goods around the world. Many national retailers and grocery store chains require their suppliers have SQF Level 2 certification, with a growing number looking for Level 3 SQF Certification.
Morris Converting, which started as a greenfield operation in 2014, received Level 2 SQF Certification last year, and then made the decision to proceed with the rigorous Level 3 certification process—specifically focusing on quality management. "With this certification, Morris Converting has taken another great step in our efforts to provide the highest quality product in the packaging industry," says Morris Converting Quality Control Supervisor and SQF Practitioner Lane Brinkmann.
In addition to SQF Level 3 certification, Morris Converting achieved a "Superior" rating from AIB International, a globally recognized standard for inspection where facilities must meet key requirements and prove their products are wholesome and safe.
Companies in this article