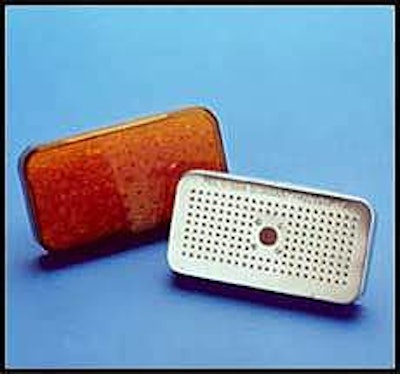 This content was written and submitted by the supplier. It has only been modified to comply with this publication's space and style.
Simply place DriCan together with the article to be protected in a tightly closed or sealed moisture resistant container. DriCan will rapidly and actively desiccate the surrounding air and keep it that way to protect against moisture damage.
DriCan Reusable Desiccating Canisters have several distinct advantages:
* Reusable over and over
* Regenerated easily by microwave or conventional oven
* High moisture capacity
* Easy to use
Typical applications include:
* Laboratory equipment and chemicals
* Cameras, lenses, photos and film
* Scientific instruments
* Medical and dental instruments
* Tools
* Museum and historical artifacts
* Clothing and fabrics
* Shoes and leather articles
* Electronics cabinets
The "forever" desiccant for a variety of applications
DriCan is a small, perforated canister containing an indicating silica gel. The case is lightweight yet strong, designed to withstand years of use. The desiccant content has a reversible action. Once it has adsorbed all the moisture it can hold, indicated by a color change from blue to pink, it can be regenerated easily by microwave or conventional oven. After regeneration, DriCan will be capable of readsorbing its full capacity.
High moisture capacity
The desiccant material within DriCan attracts water vapor and holds it physically through surface adsorption and capillary condensation. It has a tremendous number of microscopic pores which give it a high moisture capacity. One DriCan can maintain a safe level of humidity in three cubic feet of sealed space.
Easy to monitor and regenerate
Available in a metal or plastic case, DriCan has either a monitor window in the metal case or a see-through, translucent plastic case. When the desiccant turns pink, it indicates that a saturation point has been reached. Regeneration can be achieved by microwave or conventional oven.
* Conventional Oven - (Metal or plastic case) - Heat DriCan in vented oven at 149°C (300°F) for three hours.
* Microwave Oven - (Plastic case only) - Heat DriCan in microwave on high (using a 900 watt microwave) in 3 minute intervals until beads turn blue. Time may vary depending on wattage of the microwave used to regenerate.