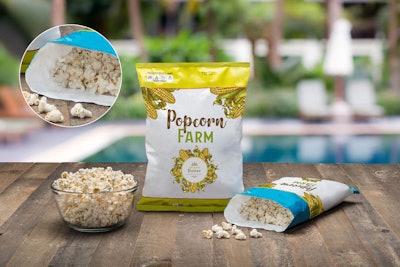 Toray Plastics (America), Inc., located in booth N-6275, is fearturing advancements in three families of packaging films-Torayfan® clear barrier BOPP, Torayfan white BOPP, and Lumirror® high barrier PET. These portfolios are manufactured with Toray's proprietary technology and provide CPG companies and converters with creative solutions that deliver robust performance with a lower total cost. Desirable film features include; thin and ultra-thin offerings, transparent high-barrier, metallized to replace foil, a white pigmented appearance, bio-based materials, integrated sealant technology with improved hermeticityandseal strength, easy-open packagingandlidding, 'premium feel' outer webs,andsolutions for digital printing and e-commerce applications.
Specifically, the Torayfan white pigmented BOPP films, pictured here, are made for snack food packaging. They are metallized on one side in sealable and non-sealable versions and are available in a variety of barrier levels and heat-seal strengths. Toray's white films combine the pigment, sealant,andbarrier in one web, enabling the manufacture of a standard two-ply lamination.
"Sophisticated consumer preferences are driving packaging design decisions," says Tammy Williamson, Associate Product Manager, Torayfan Division. "People's desire for fresh and 'clean' foods, product visibility, sturdy, 'on-the-go' packaging, portion-control,ande-commerce convenience, along with their expectation that a company demonstrate a verifiable commitment to sustainability is clear. Toray has a legacy as a leader in film technology innovation, including bio-based films,andsustainable business practices,andwe are very excited to share our knowledge with Pack Expo attendees this fall."
Among the other products being highlighted at the show are:
Torayfan CB3 portfolio, a new generation of transparent high-barrier BOPP films. CB3 films are available in 70 and 80 gauges in sealableandnon-sealable versions. These new films are PVdC-free and offer superior barrier-durability protection for nuts, seeds, snacks, cookies, dried fruit, and confections.

Toray's newLumirrorhigh-barrier PET films designed to provide extended shelf life. New MK6HB metallized film offers outstanding oxygenandmoisture-barrier protection,andPA1HB is a clear-barrier film that delivers outstanding oxygen barrier. Both offer superior aroma protection.

New Over the Mountain high-barrier BOPP films.These OTM films are designed with integrated sealant technology, improved hermeticity (air tightness), and the seal-strength to withstand the air pressure changes that occur when products are transported in changing altitudes, which can cause a package to burst. They're also robust enough to eliminate the need for a separate sealant film and allow a switch from a complex three-ply lamination to a two-ply structure. Converters value not needing the separate sealant webandthe extra lamination step. OTM films are ideally suited for the regional manufacturer that wants national distributionandfor e-commerce applications.
Companies in this article