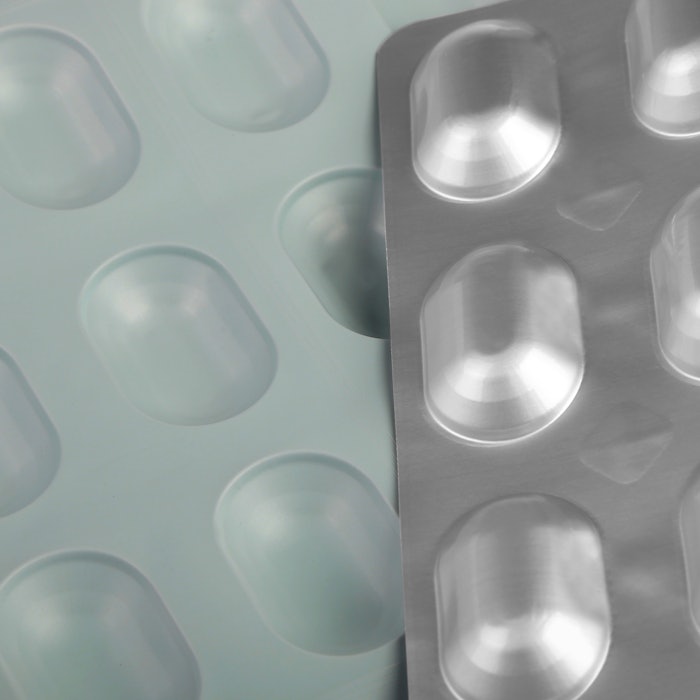 Blister packaging becomes most critical, perhaps, in containing and protecting potentially life-saving pharmaceuticals and medical devices. Here, blisters are commonly used for unit-dose packs that help patients adhere/comply with vital medication regimens. Form/fill/seal equipment is used to pack medications in which thermoformed cavities are formed out of flat sheet or film, including aluminum-based film that offer strong oxygen and moisture barrier.
At Pharma EXPO, Constantia Flexibles introduced a coldform foil blister that offers maximum moisture protection. Constantia DryFoil substitutes traditional PVC with a special polyethylene desiccant layer. DryFoil is a customized packaging concept for unit-dose applications whose maximum moisture protection can significantly extend product shelf life.
Its most noteworthy feature is its versatility. It is a PVC-free film compatible with a range of PE-based lidding materials that run on standard coldform blister lines. Line integration is made even more turnkey through Constantia's technical support team, which can guide customers in using DryFoil in the most efficient, economically beneficial fashion.
Frederick J. Lutz, the company's Regional Sales Manager North America, notes, wide swath of pharmaceutical products are increasingly moisture-sensitive, which is the reason why absolute moisture protection becomes so significant for the industry.
Companies in this article