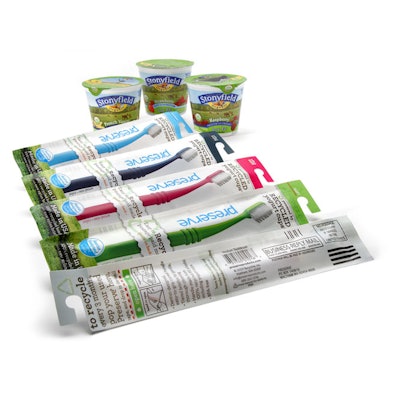 Early this year, Waltham, MA-based Preserve Products launched a Mail-Back Pack for its toothbrushes that allows consumers to mail the toothbrush back to the company for recycling into plastic lumber once they're done using the toothbrush. The toothbrush handle is made from recycled polypropylene, with new nylon bristles.
The 2-g mail-back pack is a biaxially oriented polypropylene/polyethylene film lamination supplied by Printpack Inc. Printpack prints the material in four process and three spot colors. The Mail-Back Pack is manually packaged by Preserve's toothbrush manufacturing partner.
Preserve worked with Continuum, a global innovation and design consultancy, to design the "green"-themed pack, printed with simple instructions for opening and closing, and postage prepaid for the first 250,000 units sold. Consumers insert the used toothbrush, tape it closed, and mail it back to Preserve.
The package sells nationally for $2.99 at Whole Foods, Target, and hundreds of natural foods stores. "Consumers are paying attention: Within three weeks of the launch with a leading retailer, the package is outselling Preserve's previous package by 37 percent," says a spokesperson.
Gimme 5 recycling program
Preserve produces eco-friendly houseware products, using 100% recycled plastics and 100% post-consumer paper. It's been making toothbrush handles from recycled polypropylene since 1997. The RPP comes from post-consumer Stonyfield Farm yogurt cups, as well as from Preserve's Gimme 5 recycling program (watch the video at http://www.necn.com/pages/landing?blockID=153052&tagID=21088).
The Gimme 5 Program includes Stonyfield, natural personal care products maker Tom's of Maine, natural and organic foods retailer Whole Foods Market, and water filtering company Brita and its FilterForGood campaign.
The program started in January 2009 and, in its first year, collected more than 45,000 lb of materials, the equivalent of more than 2.9 million 6-oz yogurt cups. This year, the program expects to collect three to four times that volume of PP thanks to an expanded number of Gimme 5 drop-off locations at Whole Foods Market stores across the nation and even higher levels of participation at existing locations.
"This program reinforces the mantra 'reduce-reuse-recycle,'" says Stonyfield president and CE-Yo Gary Hirshberg. "Most people want to do the right thing by the environment, and Gimme 5 makes that easier. We're pleased to be a part of this great program."
"These strong, lightweight plastics are often redirected to landfills, but the Gimme 5 program ensures these recyclable materials find new life as Preserve products," says Preserve founder and CEO, Eric Hudson.
Tom's of Maine deodorant packaging, Stonyfield yogurt containers, used Brita water pitcher filters and a number of other products made from PP, including dairy and take-out containers, are transformed into Preserve toothbrushes, razors, tableware, and kitchen products.
"Preserve receives dozens of calls, e-mails and online posts every day thanking us and our partners for making #5 recycling possible," says Hudson. "We're pleased to offer this solution and to show people the power of their recycling efforts. We turn items such as yogurt cups, take-out containers and water filters into new Preserve products—and we do it all here in the United States. It's proof of the power of reusing resources in smart and creative ways."
Companies in this article