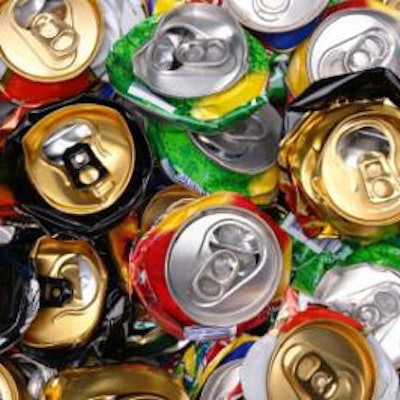 In response to a recently released Life Cycle Inventory from the PET Resin Association (PETRA) claiming that PET is the greenest option for single-serve soft drinks versus glass or aluminum, The Aluminum Association has issued its own pronouncement: "The aluminum can is the benchmark for sustainable packaging, with unmatched infinite recyclability and growing product innovation."
Says president of The Aluminum Association Steve Larkin, "In a world increasingly concerned about sustainability, no other package can match aluminum's 60-day turnaround from used beverage container to new can. No other container can match the energy savings and value that aluminum brings to recycling. That is why we are troubled by a report suggesting otherwise, and have taken a close look at its methodology."
According to The Aluminum Association, PETRA issued a Life Cycle Analysis (LCA) "showing a consistent and selective use of outdated data for competitive materials, an issue that calls into question comparisons based on the report."
It adds that Franklin Associates, an LCA and solid waste management consultancy, ignored more current and publicly available data, instead using the data from U.S. Life Cycle Inventory Database (LCI) for aluminum in their study. The aluminum data used was based on the industry's 1995 production profile.
More current data shows a 15% improvement in energy efficiency and a lowering of greenhouse gas intensity by 30% against the data set that Franklin Associates used for the PETRA study, The Aluminum Association states.
The association also claims that the PETRA study was not a "cradle-to-cradle" analysis. "Cradle-to-cradle is a more comprehensive analysis model, which includes a review of the product through the end of its life, but also evaluates whether the product is actually reused or recycled, one of the prime advantages of the aluminum can," says The Aluminum Association.
Some concerns with the study were also raised by peer reviewers, including concerns about GHG data.
"The aluminum can GHG emissions seem high. The aluminum-can stock contains a high recycled content. If can stock were assumed to be all primary (which is not the actual case): 13.2 g x 10,000 cans x 10.7 kg CO2/kg x 2.2 lb/kg x kg/1000 = 3107 lbs. Table AD-7 reports 3347 lbs total. The panel would expect can stock to be around 40-percent recycled content, which would greatly reduce the GHG intensity," the peer review stated.
The Aluminum Association says that PETRA's results appear to contradict a study by the Carbon Trust, which concluded that the aluminum can had the lowest carbon footprint among beverage packages.
"The study also cited the Aluminum Association as a source multiple times, yet chose not to cite the Aluminum Association's annual published recycling rate, instead substituting the Environmental Protection Agency's municipal waste recycling rate," says Larkin "They aren't the same things at all. We're also concerned about the lack of transparency in the study."
The Aluminum Association will release its own LCA study before the end of the month, it says. The study has been prepared by PE Americas specifically to inform the Walmart scorecard process and to update the LCI. "
Our study will be transparent," continues Larkin. "Anyone will be able to see our unit process data and make a determination about our study. We'd like to see PETRA step up their transparency and release their process unit data as well. As it stands, we have not seen the PET data and really can't make a good judgment on what they've published."