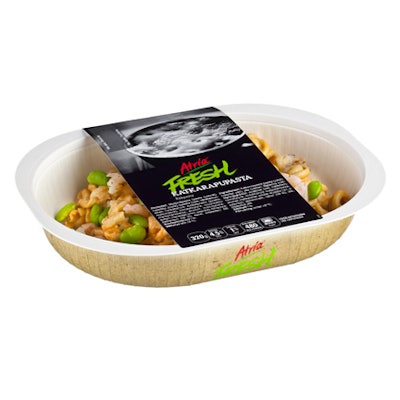 The first company to commercialize Stora Enso's new DeLight fiber-based solution to store shelves is Atria, a food maker in Finland. This new package concept is based on a technical innovation in package converting that makes it possible to introduce new shapes and user-friendly functions into fiber-based packaging. The key lies in a strengthened rim, which ensures that even the most challenging forms hold together and are effectively sealed. According to Stora Enso, the DeLight technology also delivers excellent printability, better tactile properties, and sustainable packaging benefits. Compared with more traditional packaging materials such as aluminum and CPET, DeLight is light-weight, recyclable, and user friendly. DeLight is oven-proof and microwaveable, and it can be frozen. The package is suitable for Modified Atmosphere Packaging and has good light barrier properties.
The Atria Fresh product concept is the biggest product launch by Atria this year. It's aimed at attracting new consumer groups for ready meals, mainly in the 25-45 age group. "Being fresh and modern is the core of Atria Fresh," says Tanja Virtanen-Leppa, packaging development manager at Atria Finland Ltd. "The DeLight tray represents novel, environmentally friendly technology, which responds well to the values of our target group.
DeLight stood out in our consumer tests as the most attractive package for our fresh ready meals."
Refrigerated shelf life on the Atria Fresh line of ready meals is 10 days. Gas barrier materials are included in both lidding material and tray, but their identity was not available at press time.
Companies in this article