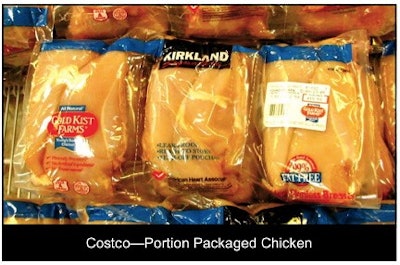 Among recent visits to several Florida club stores, Warehouse Club Focus made a visit to Costco's Fort Myers, FL, store in mid-September. The publication developed a detailed report of its findings, one observation of which follows.
WCF found a number of unique items. In the fresh chicken department, Costco is using new packaging for some of its chicken items. Costco is portion packing its chicken in leak proof, tear-off packs that make it easier to store and cook. Portion packaging fresh chicken is a clear benefit to both consumer and business members.
The item pictured is the store brand Gold Kist/Kirkland Signature fresh boneless skinless chicken breast portion package. The item has six sections [and sells at Costco for $19.58]. Costco also packages wings, thigh meat, drumsticks, and split breast fresh chicken stock-keeping units in similar portion packages. [The individual portion packs are easily separated via a perforation along the connecting seal.]
Packaging Insights offers these occasional reports on the latest club store packaging courtesy of HHC Publishing, Inc., publishers of Warehouse Club Focus. This is from the September 28, 2005 issue.
EDITOR'S NOTE: Packaging World learned one day after this article was published that the poultry packs shown are Sealed Air's Cryovac Saddle Pack-Style Poultry Package. The packaging is made from a breathable, rollstock thermoform film that is offered both as nonforming (top) and formable (bottom) webs and is available in several gauges. The saddle pack style package is a hermetically sealed, leak-resistant multi-unit vacuum package.
Companies in this article