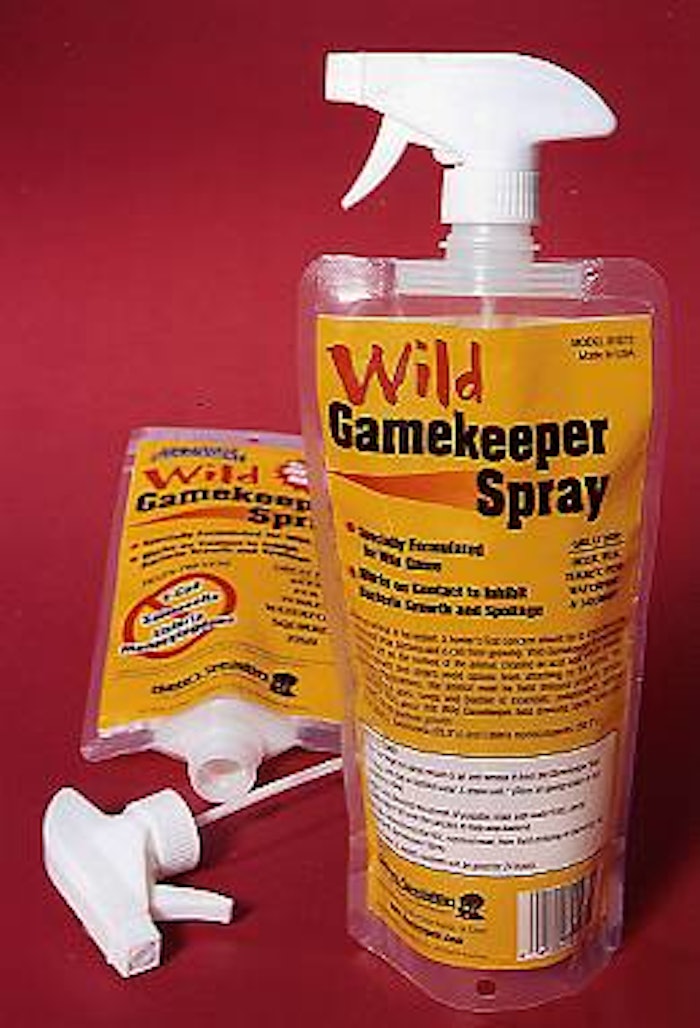 The polyester/linear low-density polyethylene pouch with an extended bottom gusset to accommodate a punch hole for hanging is engineered for durability.
Hunter's Specialties launched the first commercial U.S. product in this new package. Wild Gamekeeper Spray is a new product formulated to help prevent bacterial growth on just-harvested game. The packaging challenge was in how to make the granular formulation functional in an outdoor environment, particularly because once water is added to activate the ingredients the product will only work for an additional 24 hours.
The new package can transport and display the dry granular product, as well as be filled with water in the field to activate the ingredients and provide a method to spray the mixture onto the game.
In addition to the performance challenges, Hunter's Specialties also had a list of marketing goals. The pouch design had to be displayed on peg hooks at point-of-purchase for increased shelf facing and optimum brand billboarding.
The objective with the trigger sprayer was to create a fixture that can evacuate as much of the diluted liquid from the pouch as possible. Spray Bottles, Inc. was selected to custom manufacture the trigger sprayer.
The water-filled pouch/trigger sprayer combination was put through repeated 10" drop tests. The successful performance results signaled to Hunter's Specialties that they were ready to move to commercial production.
Companies in this article