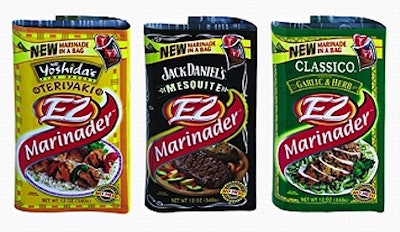 "We believe time-strapped cooks will truly appreciate the convenience of EZ Marinader," says Aaron Schwartz, Heinz brand manager for condiments and sauces. Instead of requiring bottles and bowls, EZ Marinader allows the consumer to open what Heinz calls the Flavor Seal bag, drop in the food, and reclose via a built-in zipper. Designed at Heinz, the bag consists of two separate substrates that the company says are proprietary. The high-barrier bag has a shelf life of 12 to 15 months, says spokesperson Robin Teets.
Measuring 8 1/2" x 13", the bag is folded to a 4 1/2" x 8 1/2" configuration and a piece of tape is applied to hold the fold. Looking like a row of tri-fold wallets, the pouches are displayed vertically in a paperboard display carton.
The front of the bag, which includes a layer of foil, is printed eight-color gravure, while the clear back is one-color flexo. EZ Marinader is available in Jack Daniel's Mesquite, Classico Garlic, and Herb and Mr. Yoshida's Teriyaki varieties. Each 12-oz bag accommodates up to three pounds of meat, poultry, or vegetables and retails for about $2.99.