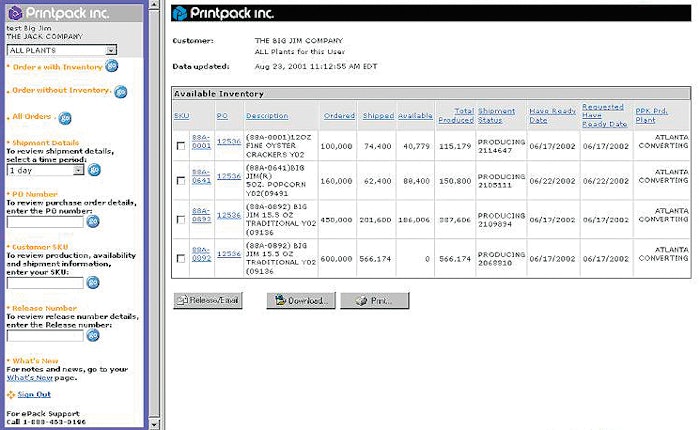 Printpack's online tool, ePack®, provides access to information such as inventory, inventory-release, order status, and delivery dates.
"Many of our customers want quick access to their order and inventory information," says Steve Cavanaugh, Printpack's director of information technology. "Getting information from traditional systems can be time consuming. Now customers have access at any time. ePack makes the process a lot smoother and quicker."
After a customer has registered off-line, Printpack e-mails the customer a Web link where they can establish a password and begin using the system. Order information can be searched and sorted by order number, SKU, purchase-order number, order-release number, plant, and ship-to location.
If a packager has a job that requires 40ꯠ lbs of 12-oz fine oyster cracker bags, for example, the user can see on ePack that the company has 40껫 lbs available in inventory (see screen shot). The screen is split into two sections. The left panel is standard and includes searchable fields. The right panel is customized with information pertinent to the user. All columns shaded in blue can be sorted.
To place an order, users can select the product and click on the release/e-mail button. The next screen allows users to type in the quantity needed and then send the inventory-release order to their customer service representative. The e-mail can also be sent to others.
If there isn't enough product available in inventory, users can call their Printpack representative to place a new order. Inventory information available on ePack can be downloaded in spreadsheet format or printed in printer-friendly reports.
"The biggest benefit for our customers is making many time-consuming tasks easy," says Cavanaugh. "ePack is functional and quick." As of November 2002, 32 companies have various registered users on ePack.
Companies in this article