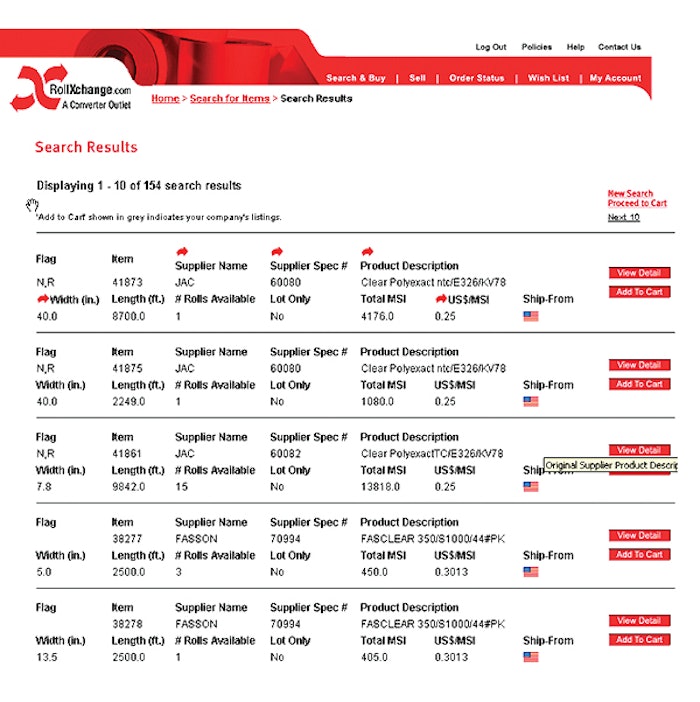 The site is hosted by Avery Dennison (Pasadena, CA), a supplier of a wide variety of label materials.
According to Ampersand's purchasing supervisor Mike Ornelas, the most valuable feature of RollXchange.com is the cost savings it brings. Ornelas orders about three times a month on RollXchange.com. In May, he purchased $6ꯠ worth of polyolefin film—32 rolls with a 40% discount.
"The discounted price for material is great," says Ornelas. He also appreciates how much time he saves by not having to conduct exhaustive research. "All the information is in one place," he adds.
To make a purchase online, login is required at www.RollXchange.com. Ornelas begins his transaction by typing in an item specification number in the search engine. Customers can also search by product category, material supplier, or roll width. Ornelas also uses a tool called Wish List. He types in an item he "wishes" to buy, and the system automatically monitors all listings and sends an e-mail notification when a match is found.
Whichever search method is used, RollXchange.com reports findings in a list format that includes the material supplier, item specification number, roll width and length, number of rolls available, and product description. There is an option to view more details or add the item to an online shopping cart. A purchase order number is needed to order online. Once the order is submitted, both buyer and seller receive a confirmation e-mail. Offline, Avery invoices the buyer for payment. The buyer pays Avery, and Avery sends the seller a credit in that amount. The credit is used to purchase new materials from Avery.
Transactions are based on a 60-day double-blind Dutch auction concept. Items are posted for 60 days, and then the price automatically drops 1/60th each day until a buyer buys it. If no buyer steps forward, the price is reduced until it reaches a floor price predetermined by the seller. Although buyers and sellers are not disclosed until after the sale is complete, all postings indicate whether they are sold from converters located in Canada or the United States.
According to Ornelas, RollXchange.com not only offers low prices, but also enables converters to service those customers who need small orders of $500 to $1ꯠ worth of material. "Minimum orders would turn clients away because we couldn't cover the small runs," says Ornelas. "That has now changed."
Ornelas is equally fond of selling surplus materials on RollXchange.com as he is of buying. Selling helps him minimize nonperforming assets and warehousing expenses. Ampersand began listing its surplus label material on RollXchange.com in March, and at that time $8ꯠ/month was being sold. Now that inventory is steady, the average sale is $2ꯠ/month.
Clarification:
In the September WebPlus department, Pillar Technologies' Web site was identified incorrectly. The correct Web address for information on the company's induction capsealing systems is www.pillartech.com. Visitors to the site can't order equipment or parts online, but they can make a request for quote.
Companies in this article