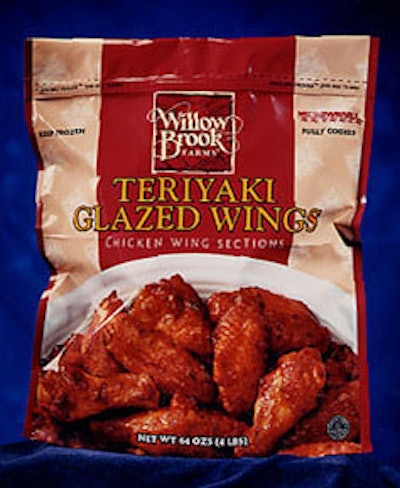 A resealable, stand-up pouch for 4 lb of frozen chicken wings won the Golden Cylinder award for top-quality gravure printing. The fast turnaround of the print job--only two weeks--permitted Willow Brook Farms to rush its Teriyaki Glazed Wings into club stores in March.
The Gravure Association of America, Inc. honored converter M&W Packaging (Jackson, MO) with a 2000 "Golden Cylinder" Award for achieving photographic level quality, dot-on-dot registration and a fast turnaround for Springfield, MO-based Willow Brook Farms' bottom-gussetted stand-up pouch.
According to M&W, it achieved award-winning graphics by managing the film process in-house and reverse printing seven colors to DuPont 48-gauge polyester on a Windmoeller & Hoelscher 8-color press. The printed material is laminated to a 3 1/2-mil white sealant film that is specifically designed for frozen food applications. A Presto resealable zipper tops off the stand-up pouch, which holds 64 oz (4 lb) of chicken wings, priced at $8.99.
WBF tells Packworld.com that it chose a stand-up pouch over a standard zipper package because of its flexibility and visibility. "Between the vivid color printing and the ability to stand up, it gives more customer visibility," says WBF's Carrie Johnston. "We are able to place the product behind the glass or lay it down in a case in the frozen food section."
The product is sold in BJ's club stores in the New England area and upstate New York.
Companies in this article