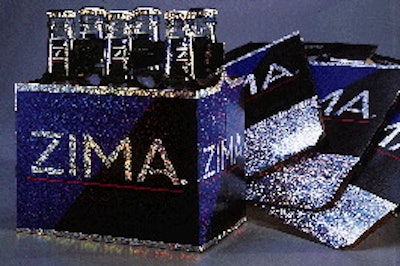 The promotion fit in well with Zima Beverage Co.'s efforts "to offer innovative packaging for our beverage," according to Lori Varsames, a spokesperson for the company. Zima Beverage is an operating unit of Golden, CO-based Coors Brewing Co. Since its sales went nationwide in '94, Zima has marketed the 4.6% alcohol-by-volume beverage as "a refreshing alternative to beer and wine," says Varsames.
The holographic package was produced by Graphic Packaging Corp.'s (Golden, CO) Composipac(TM) process. GPC's Lawrenceburg, TN, plant received polyester film that was embossed with the holographic image by CFC Intl./Applied Holographics (Chicago Heights, IL). GPC vacuum-metallized the side of the film that it gravure-prints so that the holographic image would be visible. That structure was then extrusion-laminated to 18-pt kraft paperboard from Westvaco (New York, NY). Transparent black and blue inks were used throughout most of the material to help create the holographic effect. The printed, laminated structure is sent to GPC's Boulder, CO, facility for die-cutting, set-up and gluing. The finished carriers were then shipped to the Memphis, TN, brewery where Zima is filled.
"We believe the packaging conveyed a festive, holiday appeal," says Varsames. She says it's too early to determine how sales of Zima fared in the promotional carrier. She also wouldn't divulge sales volumes.
Companies in this article
Videos from Graphic Packaging Intl.