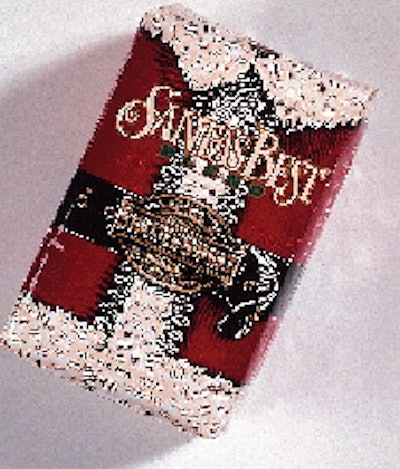 For the holiday promotion, the Seattle-based firm used Santa's famous red-and-white suit as bag graphics. Graphic Packaging (Wayne, PA) reverse prints graphics onto a 48-ga layer of polyester via gravure (see Packaging World, Aug. '96, page 17). That material is laminated to a layer of clear 48-ga polyester. These two layers are dry bond adhesive-laminated to 0.00035 aluminum foil. That structure is subsequently laminated to a 3-mil polyethylene sealant layer. The tie layer that marries the foil to the sealant layer is a PE coextrusion that creates the bond necessary to permit gas flushing and vacuum packaging. Total thickness is between 51/2 to 6 mils. The 8-oz whole bean coffee's bag includes easy-peel opening, a one-way degassing valve and an easy-peel tape on the top for reclosing. Shelf life is 90 days, though the company says the product stays fresh longer than that. Seattle's Best codes the film with a Julian date. Strictly speaking this is not a stand-up pouch, but the bag does have a bottom flat enough to stand up on store shelves and take full advantage of the Santa graphics. "We've done promotional items before, but in those instances we applied a pressure-sensitive label to a printed film bag," says Charlie Severn, retail marketing manager for Seattle's Best. "This is the first time we've actually printed a promotional bag." Graphics apparently caught the eyes of consumers in grocery stores and coffee shops nationwide. "We beat our sales projections for the promo by probably 20 percent," Severn estimates.
Companies in this article
Videos from Graphic Packaging Intl.