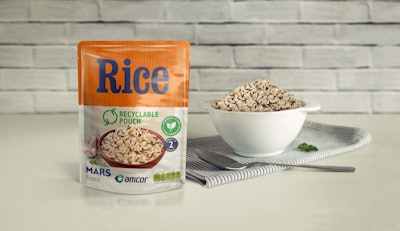 Mars Food has announced it will begin to use recyclable monolayer polypropylene plastic for its microwavable rice pouches for household brands such as Ben's Original and Seeds of Change that will launch in limited European markets by mid-year 2021. According to Mars, the project will bring to market the industry's first food-safe, mono-material microwavable rice pouch. Launching with an initial pilot in the first half of 2021, the business has ambitions to further scale the technology across its portfolio beginning in late 2021.
Mars Food is using Amcor Flexibles' AmLite HeatFlex Recyclable high-performing monolayer PP material, which will allow the company to retain the shape, shelf life, functionality, and high safety standards needed for its brands' packaging, while ensuring pouches can be mechanically and chemically recycled where infrastructure exists. Where it doesn't, Mars Foods plans to design the material for future recycling.
---
See: Kellogg, Bear Naked's Stand-Up Pouch Takes Circular Route to Recyclability

---
The breakthrough is a result of a three-year partnership between Mars Food and Amcor. Says Mars, the companies share a vision to support a circular economy where packaging doesn't become waste. The progress is part of Mars' Sustainable Packaging Plan, which outlines the business' commitment and plans to achieve 100% recyclable, compostable, or reusable packaging by 2025. The project will also move Amcor closer to achieving its pledge to develop all its packaging to be recyclable or reusable by 2025.
Says Fiona Dawson, Global President, Mars Food, Multisales and Global Customers, "We're committed to finding more sustainable solutions for our packaging that are food safe without compromising quality. This is a huge step for us towards our 2025 commitment of 100% recyclable, reusable, or compostable packaging.
"We believe in tackling the world's sustainability challenges together, and through this partnership with Amcor, we will pilot, learn, and then scale the volume of recyclable mono-polypropylene pouches across our portfolio."
Amcor has led the packaging development through its material science and packaging sustainability expertise. This upcoming launch builds on Amcor's recent introduction of AmLite HeatFlex Recyclable film. This will be its first application for microwavable food and the first in a stand-up pouch format.

---
See: Seventh Generation Introduces Recyclable, Flexible SUP

---
Mars Food accelerated the development of the new material through rigorous testing and conducted significant scale-up tests in its production facilities in the U.K., challenging what was previously considered possible throughout the production process. Working in collaboration with Amcor, it then ensured the material development met all its functional requirements while protecting product quality and safety.
Companies in this article