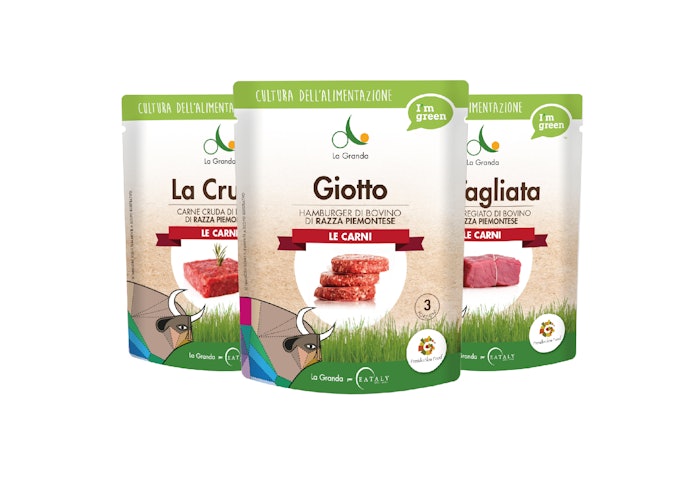 In Northern Italy in 1996, veterinarian Sergio Capaldo formed an association of farmers in the Cueno province in Piedmont dedicated to producing beef products according to specifications of the Slow Food Presidia, a program that focuses on animal nutrition, soil fertility, and biodiversity. The high-quality meat produced by the breeders is from Piedmontese cattle—an ancient breed that has never undergone genetic modification.
Says the company, "La Granda puts the biggest attention on each step of the process, starting from the soil and its good bacteria to arrive at the final product in your dish. This creates a virtuous, symbiotic food chain in which each one is doing well to the other: the earth, the animal, and man."
To carry this respect for the environment through to its packaging, La Granda began working with resin supplier Braskem in March 2018 to develop a stand-up pouch for its minced, diced, and cut beef products that would contain renewable material. "Finding common values, we started working together on the project, and after some back and forth to finalize everything in the best possible way, we arrived at the final product in September 2018," says Sara Trigari, Sales Manager for La Granda.
The pouch is made from 80%-plus I'm green™ polyethylene made by Braskem and supplied by FKuR. I'm green PE is made from ethanol derived from sugarcane. During growth of the raw material, carbon dioxide is captured from the environment. According to Braskem, for every 1 kg of I'm green PE used in La Granda's packaging, more than 5 kg of CO2 is saved.
The SUP, measuring approximately 6 in. L x 4 in. W x 10 in. H, is made from an adhesive lamination of paper and plastic, "replacing, where possible, the plastic with paper, and where a barrier is necessary, replacing the fossil polyethylene with I'm green polyethylene," explains Trigari.
According to the film supplier, B-PACK, the pouch material is a construction of paper + adhesive + (I'm green PE/tie layer/ethylene vinyl alcohol/tie layer/I'm green PE), resulting in greater than 80% bio-based carbon content. "We developed a bio-based film with an excellent carbon footprint, keeping all the performance of a fossil fuel-based one," says Marcello Zorloni, Sales & Marketing Manager at B-PACK.
The film is printed by ACM-Plastic with La Granda's signature colors, along with a "green grass band" along the bottom, using solvent-free technology. Inside the pouch, the meat is wrapped with a film made from polyamide nylon and petroleum-based PE.
Launched in fall 2018, the three meat varieties in the bio-based pouch include Giotto, made with 100% minced Piedemontese beef and sea salt; La Cruda diced raw meat from adult Piedmontese cattle; and La Tagliata, a fine cut of Piedmontese beef. According to Trigari, due to consumers' growing sensitivity to the environmental implications of packaging, La Granda's new packaging has been positively welcomed by both its distributors and its customers.
Companies in this article