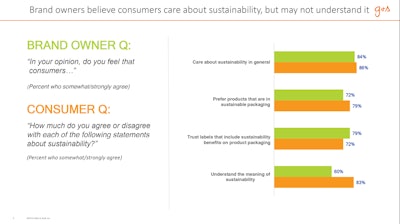 When it comes to sustainability, brand owners using flexible packaging face both challenges and opportunities in communicating to consumers the sustainability benefits of flexible packaging throughout its life cycle. That was one of the key takeaways from a presentation given by Brian Hall, Managing Director, Client Services for G&S Business Communications, at the 2018 Flexible Packaging Association Fall Executive Conference, Oct. 4, 2018, in Chicago.
G&S has worked with the FPA on several industry studies, including the "FPA Brand Value Study" in 2015, which Hall referenced in some areas of his presentation, which focused on the latest project, "Brand Owner and Consumer Insights on the Sustainability of Flexible Packaging – A New FPA Study." Whereas the 2015 study dealt with flexible packaging for food, the 2018 sustainability study looked at a range of applications, including food at 59%, beverages at 28%, and industrial products at 26%, among others.
For the 2018 study, 349 brand owners were surveyed in cooperation with Packaging World magazine. Partnering with Harris Poll, G&S also surveyed 2,012 consumers, aged 18 or older. Hall explained the goals of the study: "What we were trying to do with consumers is understand what sustainability means to them, the importance of sustainability overall and as it relates to packaging, their understanding of sustainability-related packaging, and opportunities for education with that consumer through making valued purchase decisions.
"With brand owners, we were trying to understand how they are addressing sustainability, the extent to which sustainability is part of their business goals, how they think consumers perceive sustainability, and what some of the barriers and opportunities are for the growth of flexible packaging."
Flexible packaging's life-cycle advantages
When it comes to the importance of sustainability in general and sustainable packaging in particular, a majority of brand owners and consumers agreed that consumers care about both issues. But brand owners have less confidence that consumers understand the meaning of sustainability than the consumers do themselves, at 60% versus 83%. (See Figure 1.)
"Brand owners told us they believe consumers care about materials [72%] more than processes 56%]," said Hall. This skepticism by brand owners was borne out by responses given by consumers to the question, "Which of the following terms do you believe describe sustainability?" The top three terms chosen were "renewable," "recyclable," and "energy efficiency" at 51% or more, while the terms "less waste," "resource efficiency," "transportation efficiency," "circular economy," and "lightweight," were selected by 49% or fewer of respondents. In fact, only 9% of consumers identified "lightweight" as a term to describe sustainability. (See Figure 2.)
Given the responses to this question, it's no wonder consumers selected the materials they did when asked, "Which of the following types of packaging do you believe are sustainable?" On average, 57% of consumers said they believe glass is sustainable, and 51% said corrugated. In comparison, just 37% said flexible packaging is sustainable. (See Figure 3.)
But all hope is not lost for brand owners using flexible packaging. Despite the fact that consumers may not describe sustainability in terms of life-cycle benefits, and while they may not see flexible packaging as one of the most sustainable materials, "when presented with specific life-cycle packaging impacts directly and specifically, consumers did recognize the importance," Hall noted. (See Figure 4.) For example, even though only 24% of consumers identified the term "transportation efficiency" with sustainability, 81% said it's important to them that product packaging "has been transported efficiently." Likewise, while only 48% saw less waste as a sustainability attribute, 89% said the fact that a product "ensures less packaging waste" is important to them.
"The takeaway is there is a clear need for greater consumer education about specific life-cycle impacts of flexible packaging," said Hall, who added that the entire flexible packaging supply chain must amplify communications about specific sustainability benefits.
Cost continues to be a barrier
One thing that hasn't changed since sustainability became a buzzword in the packaging lexicon is the barrier that increased costs present to consumers and brand owners alike.
In many sustainable packaging studies, consumers declare how important sustainable packaging is to them, yet few seem willing to pay the price. Those surveyed by G&S were no different. Consider this: In the FPA study, 86% of consumers reported they "care about sustainability in general," and 79% said they "prefer products that are in sustainable packaging," but only 27% reported they "always or often actively seek out products in sustainable packaging," and only 21% said they "always or often pay more for products in sustainable packaging."
There may be a partial explanation for this contradiction: Earlier in the study, 65% of consumers reported they are "often skeptical of sustainability claims made by companies," and 31% are just plain "tired of hearing about sustainability."
Brand owners exhibit some of the same contradictions. While they are continuing to put more effort toward sustainability, these efforts are often thwarted by the increased costs that may come with it.
To gauge the importance brand owners place on sustainable packaging, G&S asked, "How have your company's sustainability efforts changed in the past five years?" Sixty-seven percent said they are putting forth more effort, 25% said they are making about the same effort, and 4% reported they are making less of an effort.
In questioning brand owners on the three most important attributes they consider when evaluating packaging, the top response, at 51%, was that it reduces costs. Comparing the 2018 results with the 2015 brand value study, G&S found this hierarchy was the same in 2015, but using packaging that reduces costs had grown in importance. The second attribute, "physically protects the product," grew from 34% to 44%, and the third, "enhances brand appearance," decreased from 45% to 36%. Among the largest changes from 2015 was the importance brand owners place on shipping and transportation efficiencies. In 2015 it was 21%, in 2018, 30%. (See Figure 5.)
Oddly enough, those sustainability attributes valued most by consumers were considered the least important by brand owners, with recyclability at just 14% versus 12% in 2015, and packaging made from recycled content at 9%, just slightly up from 7% in 2015.
Of the three biggest barriers identified by brand owners to increasing their sustainability efforts, the first two pointed to the higher cost (44%) and the perceived lesser quality (42%) of existing alternatives. The third barrier they noted was competing organizational priorities of higher interest, at 40%. (See Figure 6.)
Fifty-seven percent of brand owners, however, believe that in the next five years, the biggest trend that will drive a change in their packaging processes out of the 10 options presented by G&S will be new packaging technologies/processes. Following that, brand owners cited bio-based materials/structures and increased recycled content, both at 38%. (See Figure 7.)
Summed up Hall, "There is an opportunity to further inform brand owners about the specific operational and performance sustainability benefits of flexible packaging as well as consumer interest in very specific sustainability attributes."
Millennials hold the key
Another important finding of the FPA study is the opportunity Millennials present moving forward. Not only did the study show that those between the ages of 18 to 34 are more likely to consider the full life-cycle impacts of a package, but they also actively seek out products with sustainable packaging more often than other generations and are also more willing to pay more for it.
Among some of the findings:
Thirty-seven percent of Millennials check packaging labels for sustainability information versus 34% of those ages 35 to 44, 27% of those ages 45 to 54, 25% of those ages 55 to 64, and 22% aged 65 and over. (See Figure 8.)
Thirty-two percent of Millennials are willing to pay more for products in sustainable packaging, versus 23% (35 to 44), 18% (45 to 54), 16% (55 to 64), and 11% (65+). (See Figure 8.)
Thirty-three percent of Millennials believe having a sustainable life cycle is an important attribute of the packaging for those products they buy, while only 25% (35-44), 26% (45 to 54), 24% (55 to 64), and 26% (65+) believe so. (See Figure 9.)
Thirty-two percent of Millennials believe efficient transportation of the packaging for the products they buy is an important factor, versus 23% (35-44), 23% (45 to 54), 21% (54 to 64), and 23% (65+). (See Figure 9.)
Summarizing these findings, Hall said that "this indicates an even greater opportunity to clearly communicate the value of full life-cycle impacts of flexible packaging with Millennials, especially as they drive packaging trends in the future through increased buying power and influence."