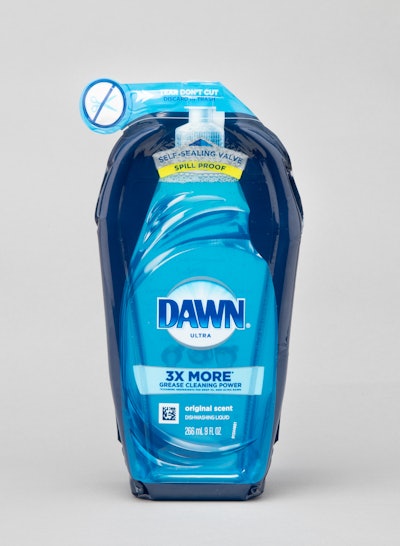 The highest honor, the Diamond Award, went to Procter & Gamble's Air Assist, a breakthrough in performance and sustainability for e-commerce and brick-and-mortar packaging. It's still in its early stages of commercialization. But the first package to leverage the new technology, a 9-oz package of Dawn Ultra dish soap, still managed to wow the Dow judges.
Air Assist (see below for details on how the concept has been rebranded as AeroFlexx) is described by P&G Research Fellow Ken McGuire as a "breakthrough in liquids packaging." To most observers it looks a lot like a flat-bottom, gusseted, stand-up pouch. But it utilizes compressed air to inflate specific portions of the pouch, notably along the edges, to bring a degree of rigidity that is typically not possible in a flexible package. In other words, it's a flexible package that behaves more like a rigid bottle. But it offers brand owners a 360-degree billboard for branding and decorating plus a format that is e-commerce friendly for shipment without the added prep and protection that bottles might need. And because the package is made of flexible film, it requires 50% less plastic than a traditional blow-molded bottle. Not to mention that, because it can be delivered to a filling facility as roll stock, it has the potential to score additional sustainable packaging points because it greatly reduces the number of truckloads of empty bottles that have to be delivered.
But wait, there's more. A specially designed valve integrated into the package delivers spill-proof functionality with cleaner, more finely controlled, and convenient dispensing. Since there is no cap to be opened and closed, and because the package is spill-proof, product dispensing is one-handed. Plus there is no messy product residue build-up on the cap. Also part of this design is a vent that allows air back into the package after product is dispensed to allow continued use with no package deformation.
McGuire says that something like 40 patents on this technology have either been issued or are pending. As for the machinery and materials involved, complete details are not available. But here's what is known.
The multilayer substrate from which the package is made includes a reverse printed polyester laminated to a coextrusion. "Without naming the layers of the coextrusion," says McGuire, "I can tell you the properties it had to have. High on the list was barrier, since we want to maintain a two- or three-year shelf life. Moisture barrier was important, too, because we want to make sure consumers get the amount of product we say they're getting. Puncture resistance, of course, was key, as was printability. And finally, we had to be able to make a laser perforation at the top that guarantees a hermetic seal yet tears conveniently in the hands of the consumer."
And the machinery behind the Air Assist package? Designed and fabricated in-house by P&G, it apparently bears some resemblance to a horizontal form/fill/seal system. The list of tasks it must perform is impressive: fold, seal, emboss, perforate, fill, inflate, and cut into desired finished shapes.
According to McGuire, few Consumer Packaged Goods companies were better positioned to design and build such unconventional equipment than a company like P&G, where web handling expertise (think paper towels, diapers, feminine care products) is second to none and a mastery of liquid filling (think dish soap, laundry detergent, shampoo) is equally unparalleled.
"The manufacturing processes are pretty well known," says McGuire. "We just found a unique way of putting them together. Essentially what we do is build an inflated frame along all the edges. We can fill at speeds comparable to the filling of rigid bottles. The filling is currently done at our engineering development facility in Cincinnati. We do both premade pouches that are subsequently filled as well as in-line forming and filling from roll stock. It depends a lot on the number of containers to be filled."
Though the novel package was designed for both brick and mortar and e-commerce distribution, thus far it has only been made available to consumers by way of amazon.com.
In addition to Dawn Ultra dish soap, a 9-oz offering of Old Spice Swagger has also been made available over amazon.com.This packaging format is especially suitable for e-commerce channels because it does not require any additional "prep" (taped caps, zip-locked bags, bubble wrap, etc.) prior to shipment because it doesn't break in transit. It has been certified ISTA-6Amazon.com-Over Boxing.
P&G also points out that because the machine parts required for size/shape changes to the package are flat, two-dimensional heat sealing dies as opposed to heavy blow or injection molds, the cost and time required to design new shapes is considerably less than with a traditional bottle.
P&G in its Dow Awards entry form describes the Air Assist package this way: "Consumer preferred, more sustainable, and less costly than traditional bottles—a true breakthrough technology designed to disrupt the entire packaging value chain." Intrigued though he is by this technology's potential, McGuire is the first to admit that it's early days for Air Assist. ""Even though we have half the plastic versus a conventional bottle/cap/label offering, we are constantly aspiring to optimize form functionality and cost of the package. That's the same journey we took with rigid plastic bottles over the past 20 years."
McGuire also notes that this game-changing technology will get an added boost from Chicago-based Innventure, a team of experienced professionals with a history of entrepreneurship that partners with Fortune 100 firms. "Innventure will scale this technology under a global licensing arrangement to make this a broader industry play and not just a unique P&G item," says McGuire.
"Innventure has rebranded Air Assist as AeroFlexx," says Cedric Dsouza, CTO – Innventure AeroFlexx. "Based on the needs of our customers and their supply chains, our planning stance is to design and offer commercial executions of this technology to the industry via a menu of three options. By selling pre-made pouches that a firm can fill at their site on AeroFlexx fill/seal equipment, by selling roll stock that a firm can put through AeroFlexx form/fill/seal equipment that it installs, or by filling pouches for customers on a contract manufacturing basis."
See video of the pouch in action here.
Companies in this article