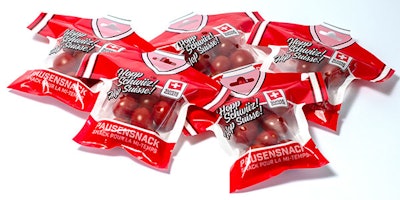 Held between June 14 and July 15, 2018, the FIFA (Federation Internationale de Football Association) World Cup in Russia represents the 21st quadrennial international "football" tournament, which includes 32 men's teams competing within eight groups.
Two vegetable marketers from Switzerland are selling tomatoes as snacks in shaped flexible bags that resemble their country's team jerseys. Bags hold 100 g of tomatoes and are supplied by Schur®Star Systems GmbH. The T-shirt shape allows both companies to use their country flags and colors as graphics and attracts the attention of health-conscious consumers to the tomatoes.
The bag substrate is an adhesive lamination of 12-mil PET/50-mil polyethylene, with graphics printed flexographically in four colors. Schur Star says bags are supplied on a "unique string" and allow for an "easy filling and smooth packing process on a Schur Star Packaging machine."
Schur Star says its policy is not to identify its customers, although the managing director of one of the Swiss firms provided the following details: "The snack tomatoes are a very popular product in our range, and we decided to do something special on occasion of the FIFA World Cup with Switzerland as a participant. When Schur Star Systems presented their Schur Star Shape solutions, it was obvious to choose the T-shirt variety. The bag does give associations to the FIFA World Cup 2018, but is not identified as such, so we will keep the bag variety in our range. The solution is also perfect for other sports events, for festive seasons, or for any kind of promotion, and we will have it in mind for other special occasions."
Bags are sold in Switzerland within green reusable plastic boxes, "as part of a circular system between suppliers and retailers," according to Schur Star. The company says it has supplied a similar bag to Sweden and another sports-oriented bag to Holland that is sold year-'round. The supplier can provide a variety of bag shapes, including a heart, star, and smiley face.
Consumers have responded positively to the T-shirt-shaped bag, says Schur Star, noting, "Swiss retailers were excited about the idea, and the Swiss consumers have welcomed the product, which has sold well."
Companies in this article