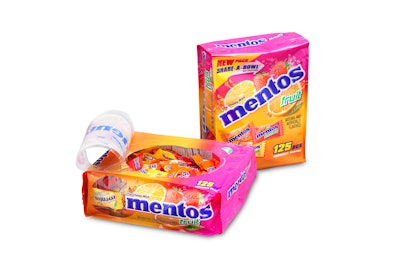 The privately held Italian-Dutch global manufacturer of confectionery and gum launched SHARE-A-BOWL by teaming up with Sonoco Flexible Packaging, which acquired the PrimaPak technology when it purchased Clear Lam Packaging in July of last year.
PrimaPak is a flexible, stackable, and reclosable package produced from a single roll of film on vertical form/fill/seal machinery. Designed as a replacement for stand-up pouches and rigid packaging such as trays or jars, it provides enhanced merchandising pop through its efficient cube shape and six panels. It also turns into its own serving dish because it lies flat and because the unique peel-back top has a hinged quality to it. That means it stays open and lets folks reach in at will to pick the next piece of candy. Due to its lightweight rectangular shape, it improves packaging cube by up to 30 percent, maximizes manufacturing efficiencies, reduces warehousing space, and minimizes transportation demands.
Typically, bulk candies are merchandised in rigid PET containers, stand-up pouches, or lay-flat pillow packs. So Perfetti saw the PrimaPak format as a differentiator as they set out to launch a 125-count package of individually wrapped Mentos Mint or Mentos Fruit candy. Product is made and individually flow wrapped in a Perfetti Van Melle plant in Breda, the Netherlands, and then shipped in bulk to a contract packager here in the U.S. There the PrimaPak roll stock material—an adhesive lamination of polypropylene/polyester/PP—is fed into an intermittent-motion modified Ilapak vertical form/fill/seal machine that produces finished packs at about 40/min.
One key component not mentioned in the above description of the three-layer adhesive lamination is a polyester label from Spear Label Systems USA that gets applied to the base structure on what is essentially a pressure-sensitive labeling machine. Included in this proprietary label application process is tooling that scores the base structure in such a way that when the consumer opens the package by pulling on this pressure-sensitive label, the base structure tears neatly along the score line and comes up along with the label. This is what turns the package into the easy-to-grab-from serving bowl that it is—but one that can be conveniently re-closed because of the top-panel label and the adhesive around its perimeter.
Graphic design on the package was created by Perfetti van Melle and printed at the Sonoco Elk Grove facility using the latest flexo high-definition, flat-dot plate printing technology. "We designed the graphics so that the package can be merchandised in the store either vertically or horizontally," says Perfetti Communications Manager Stephanie Creech. The design also includes on one side a clear circle that lets consumers see the individually wrapped Mentos candies inside.
Launched nationwide in February of 2017, the 125-count SHARE-A-BOWL sells for $5.99.
Companies in this article