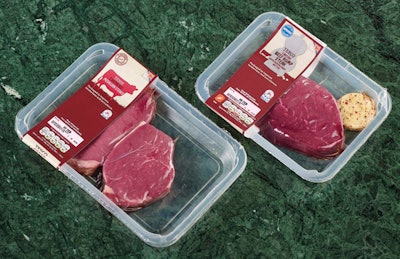 Following are the 2015 FPA winners.
2015 FPA Highest Achievement Award Winner
Cryovac® Darfresh® On Tray
Manufacturer: Sealed Air Corporation—Cryovac
Award: Highest Achievement Award—Retail
Scrap-free film lidding on fresh meat trays
Darfresh On Tray is an innovative vacuum skin packaging system for fresh red meat that the FPA judges picked for the Highest Achievement Award—Retail. From an Intellectual Property standpoint, Sealed Air Corp.-Cryovac is behind this technology. But also playing a big role from an equipment standpoint was Mondini, represented in the U.S. by Harpak-Ulma Packaging. Compared to conventional vacuum skin pack tray systems, this one uses about 40% less flexible film lidding material because there is no lid stock scrap.
What separates Darfresh On Tray so markedly from comparable alternatives is that there is no "skeleton" or film matrix from which the lid stock is cut. That's why there is no lid stock scrap. Flexible film is fed into a Mondini vacuum skin lidding machine and then the lidding needed for each tray in production is cut from the web to the precise dimensions of each tray. Once the lidding is cut free from the roll, a vacuum shuttle system transfers it to the vacuum chamber and tray-sealing head. Whether the machine runs one-up or more than one-up, it runs at 8.5 cycles/min, which Sealed Air says is about 40% faster than most conventional vacuum tray sealing systems out there today.
Among the first to use the material is Hilton Foods, first in the Netherlands and then in 2014 in the UK. In the Netherlands, whole muscle meat in the Darfresh On Tray format is sold primarily at the Albert Heijn chain of stores, while in the UK the packs are found at Tesco stores. Launching in Europe made the most sense because vacuum skin packaging of fresh red meat is far more common there than in the U.S. But Sealed Air and Mondini teamed up to showcase Darfresh On Tray at the recent Pack Expo International in Chicago, so expect to see U.S. applications in the future.
From a material specification standpoint, the trays used by Hilton Foods are similar to those used in Sealed Air's Simple Steps concept for cooked foods that need only be reheated (pwgo.to/1427). Made by a Sealed Air partner, the Darfresh On Tray trays are thermoformed from a PP sheet. Prior to thermoforming, a substrate coextruded by Sealed Air that includes EVOH for gas barrier purposes is laminated to the PP. This package also has easy-peel opening, which consumers love. They also like that if they haven't cooked the package's contents within the 21-day shelf life, they can pop it into the freezer. Clear lidding material, meanwhile, is coextruded by Sealed Air and also includes an EVOH layer.
One other partner that has more or less attached itself to the Darfresh On Tray concept is Ravenwood Packaging of the UK. Its linerless labels are used by Hilton Foods and were part of Darfresh On Tray's U.S. debut at Pack Expo. Go to pwgo.to/1428 for a video demonstration of both Darfresh On Tray and Ravenwood's innovative linerless labeling system.—Pat Reynolds, VP Editor
2015 FPA Highest Achievement Award Winner
Intervoid® Sterile
Manufacturer: Coveris™
Award: Highest Achievement Award—Institutional
Specimen sampling package earns top FPA honors
The Flexible Packaging Assn.'s 59th Flexible Packaging Annual Awards competition awarded its Highest Achievement Award—Institutional to packaging material supplier Coveris for Intervoid® Sterile.
FPA says Intervoid Sterile represents a major breakthrough in flexible packaging for medical, food, and other specimen sampling through its integrated protection, labeling, tracking, and storage system.
"This unique package enables the delivery of a single, lightweight flexible sampling solution with obvious cost, environmental, safety, and supply chain advantages. Eliminating the risk of cross contamination and enhancing traceability and function, Intervoid products are both food contact-approved and UN3373-marked for product assurance and security against cross contamination. The sterile bags combine unique track-and-trace identification, patented tamper-evident closure and tape, which says 'stop' if tampered with or not sealed correctly," said FPA.
Intervoid Sterile was launched in 2014 and is currently being used for various commercial applications via a number of specialist distributors, says Sian Bates, Group Marketing Manager, UK Food & Consumer with Coveris. "We are unable to disclose the end user of this product but within their industries, the benefits of using Intervoid Sterile include increased security of sampling, traceability of samples throughout the entire logistics chain, audit trail, use of sampling bags within a sterile environment, and increased efficiency with reduced waste."
FPA says the Intervoid Sterile bag "marks a world first," noting that by "fusing together a host of highly technical conversion methods, the sterile bags combine unique track-and-trace identification, patented tamper-evident closure and tape, perforation, and leak-resistant properties to deliver a composite, easy-to-use sampling solution for enhanced safety, security, and environmental impact."
Chicago-based Coveris makes flexible and rigid plastics as well as paper and paperboard packaging formats, and the firm has more than 70 facilities located in more than 20 countries worldwide.
The supplier says Intervoid Sterile is targeted at multiple sectors that require sterile and secure sampling. Primary applications include medical (blood, urine sampling, doping etc.) pharmaceutical testing, food (within the manufacturing process or at source), and biotech industries.
Coveris says it incorporates extrusion, print, and conversion processes in the manufacture of Intervoid Sterile, which can be customized for size, thickness, film, print design, tracking, and security features. That said, the standard product is a 70-mu extruded film, as per the samples supplied. Specialty features could include welded security tape incorporating the security features and leak-resistant welding.
Intervoid Sterile bags are available in up to eight colors, printed flexographically by Coveris. Subsequently, bags are then formed by what the company describes as "specialist converting processes" into gamma-sterilized premade bags individually packed for immediate use.
FPA points out the following benefits of the package:
• Through its leak-resistant direct contact function, the flexible packaging allows for the removal of additional packaging components such as labels and breakable rigid plastic or glass containers. This enables the delivery of a single, lightweight flexible sampling solution.
• The bag's unique track-and-trace capability utilizes state-of-the-art inline print processes to dual-mark each bag with its own number and barcode identification to eliminate the need for secondary print, labelling, or human process error, an integrated capability and advantage of flexible process not available on any other format.
• According to Coveris, track and trace and security features are delivered via a Security STOP messaging in the tape coupled with random print in the tape weld, in which tampering results in an immediate signal that an attempt has been made to access the bag—removal of the tape with replacement by another tape is not possible due to the random print.
Also, security printing on the welds of the bag prevent the cutting and re-welding of the actual bag. Track-and-trace numbering is coupled with sequentially matched barcode in multiple formats. No two numbers are ever repeated on the product.
Additionally, tailored numbering solutions are used to suit all internal and external systems employed. All numbering and tracking systems are controlled in-house by Coveris. See how the Intervoid® Sterile system works at pwgo.to/1426. —Jim Butschli, Features Editor
2015 FPA Gold Award Winners
Dole Fruit & Veggie Blends
Manufacturer: Emerald Packaging
Award: Gold—Printing and Shelf Impact
The Dole Fruit & Veggie Blend is a series of three pouches newly launched in late 2014. The package was printed with the revolutionary HP Indigo wide-web digital print technology. The series of three unique graphics were printed in line with zero print waste between each unique package. The PET/PE laminated stand up pouch with a zipper closure was laser scored for easy consumer access.
Muscat Dates
Manufacturer: Paharpur 3P (A Division of Paharpur Cooling Towers Ltd.)
Award: Gold—Printing and Shelf Impact
Registered Matte coating to enhance aesthetics and ultimately brand value. Packaging with premium looks and paper-like finish. The best part of the pouch is the brilliance in printing. This smoothness is achieved by a special matte surface coating. Graphics, color combination of gloss, and matte effect has given a "live" look of dates on the pack.
Freshness Plus®
Manufacturer: Sealed Air Corporation—Cryovac
Awards: Gold—Sustainability, Gold—Technical Innovation
The Sealed Air Food Care Freshness Plus® Modified Atmosphere Package uses an innovative active barrier film that aggressively helps prevent oxygen migration into artisan bread, keeping it fresher longer, extending shelf life for more than 40 days, and reducing product shrink by up to 50 percent. These benefits equate to operational efficiency, cost reduction, and revenue generation for both the processor and retailer.
Rust-Oleum SpraySmart™ Marking Paint Pouch
Manufacturer: Printpack
Award: Gold—Packaging Excellence
Rust-Oleum's marking spray paint was packaged in rigid aerosol canisters. These did not evacuate fully, and they also created a lot of hazardous waste. SpraySmart™ Pouches mix and evacuate more effectively, providing more paint coverage for the same package weight, and the used pouches take up much less space and do not require disposal as hazardous waste. Also, the transparent areas within the graphics allow users to easily see how much paint remains in the pouch.
Amcor's Dessiflex®
Manufacturer: Amcor Flexibles
Award: Gold—Technical Innovation
Amcor's Dessiflex® is a breakthrough in flexible packaging. It is extremely effective at both removing moisture within a package and retarding moisture penetration through seal edges of the package. Dessiflex even removes retained moisture from packages exposed to high humidity sterilization. It reduces the environmental footprint approximately 20% compared to a pouch with a desiccant sachet. Dessiflex is a simpler and better desiccant package effective in challenging applications. Package contents stay clean and dry.
McCormick Skillet Sauce Mix Pourable Pouch
Manufacturer: Bemis Company, Inc.
Awards: Gold—Packaging Excellence, Silver—Sustainability
With its die-cut spout and tear-off "cap," the new McCormick Skillet Sauce package has the look and functionality of a bottle, but the efficiency and sustainability of a pouch. The cap tears easily and cleanly for a controlled, directional pour that's proven to please consumers. The unique shape, standup format and vibrant graphics immediately set the product apart from McCormick's popular dried spices to strengthen the company's entry into the liquid sauce category.
Medi-CRREO™ with Child-Guard™ Slider
Manufacturer: Pactech Packaging LLC/Reynolds Presto Products
Award: Gold—Technical Innovation
This is the world's first child-resistant flexible pouch using the Child-Guard™ Closure. The Medi-CRREO™ manufactured by Pactech Packaging, complemented with the Child-Guard™ Closure developed by Reynolds Presto Products, has passed the testing requirements of Title 16 CFR 1700 of the Poison Prevention Packaging Act. With the hermeticity of the slider and the barrier attributes of the film laminate, end-users can be assured that their product will last on the shelf for an extended period of time. This new flexible packaging solution opens market opportunities traditionally supplied by rigid packaging.
Ghirardelli 5.50 oz. Milk Chocolate Sea Salt Cashew
Manufacturer: American Packaging Corporation
Award: Gold—Printing and Shelf Impact
An in-line laminated 2-ply reverse printed matte film, registered gloss lacquer, easy tear and reseal features, all in a stand-up pouch results in a unique shelf appeal for this premium product. The rotogravure printing process provides the registration control necessary for application of the registered gloss lacquer to the exterior of the package after lamination. The soft vignettes and matte film help to give the package a high-end appearance along with durability and shelf life.
P.F. Chang's Mongolian Style Beef
Manufacturer: American Packaging Corporation
Award: Gold—Printing and Shelf Impact
Mouthwatering graphics provide for a realistic visual of the high-end product waiting inside. American Packaging achieved the life-like reproduction by utilizing its High Definition flexographic printing expertise to provide a sharper image with intense colors and cleaner text. The consumer can almost taste how good the meals will be by viewing the package on the local grocer's freezer shelf.
Exponent 2™
Manufacturer: Rollprint Packaging Products, Inc.
Award: Gold—Technical Innovation, Gold—Packaging Excellence
Exponent 2™ combines ultra-high barrier ClearFoil® with a chemically-inert sealant. The high-performance sealant, a coextruded non-crystalline polyester, is designed to replace Barex® for chemically-sensitive applications. Exponent 2™ is ideal for applications requiring exceptional barrier and clarity. With oxygen and moisture barriers available down to 0.0008 cc/100in2-24 hrs, and 0.0008 g/100in2-24hrs respectively, the all-polyester Exponent 2™ can be used for the most sensitive applications, providing cost savings and recycling opportunities when compared to traditional foil structures.
For Silver winners, go to pwgo.to/1416.
Companies in this article