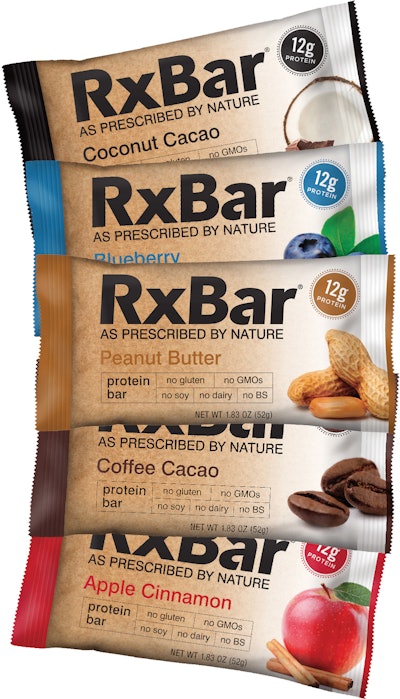 Launched in 2013 by Chicago-based Chicago Bar Co., this product consists of just seven ingredients: dates, egg whites, almonds, figs, apples, cinnamon, and natural apple flavor. It was originally made in house and then hand packed into pre-made bags with a zipper reclosure feature. But operating manually in this fashion, expansion of the business was difficult. Not to mention the fact that the premade bags, sourced from overseas, were a tad pricey.
So in 2014 the firm outsourced production and packaging to an unnamed contract manufacturer in the U.S. Now the bars are packed in a flexible film lamination that is sent to the contract manufacturer as rollstock so that the bars can be packaged on a flow wrapper. Provided by Litho Pac, the film is a two-layer adhesive lamination of 70-ga matte OPP and 1.10-ga metallized OPP. The metallized OPP is ExxonMobil's Metallyte UBW-ES, a recently introduced material that offers high barrier and enhanced heat-seal characteristics. Graphics are printed flexo in seven colors.
Sold at retail for $2.49 per bar, the RxBar is also sold online in 12-count cartons. "A big portion of our business is direct to consumer via the internet," says company owner Peter Rahal. Shelf life, he adds, is one year.
"We knew it was a good idea, and the best way to prove it was to make and package it in house," says Rahal. "Now it's time to scale up, and outsourcing permits us to do that."
RxBar opened a new headquarters facility in Chicago and celebrated with a January 31st reception (shown here).
Companies in this article