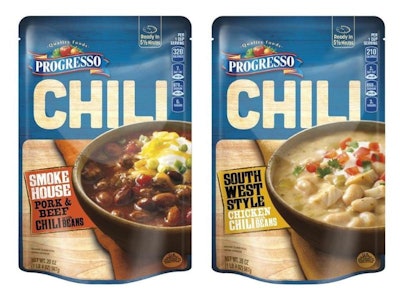 Progresso has extended its expertise in soup to two new "homemade-quality" chili products packaged in a flexible standup pouch decorated with bold, rustic graphics. Offering unique ingredient combinations—Smokehouse Pork and Beef Chili with Beans, and Southwest Style White Chicken Chili with Beans—the line was launched in July to address consumers' growing interest in tasty dinner options that are easy to prepare.
According to Associate Marketing Manager for Progresso Jill Haspert, the company selected the 20-oz, two-and-a-half-serving standup pouch to improve the consumer experience as well as shelf impact. "Pouches are a convenient and user-friendly format for our consumers, while also standing out on shelf," she says.
Although material and supplier information for the pouch is proprietary, Haspert does say that the package construction was chosen for product protection, and ease of consumer identification and opening. "Product protection is an important responsibility of the package," she explains. "The package design and construction help maintain the quality and the excellent taste of the chili over its [18-month] shelf life. The standup pouch format allows consumers to quickly identify the product on shelf. The material makeup of the pouch allows for consistent seal quality and allows our consumers to easily open the package without the use of tools."
The pouch is designed with a tear notch at the top for opening and a clear bottom that allows consumers to see the quality ingredients inside. For product preparation, the consumer pours the chili into a microwave-safe bowl and heats for 5½ minutes—a significant time saver versus making chili from scratch, Progresso notes.
To convey the chili culture through its package graphics, Progresso selected brand agency CBX, which selected a hearty, inviting bowl of chili as the primary graphic. The bowl is set against a warm wood-grain table—a background that is also used for the "Chili" copy. The border and top of the pouch use the Progresso blue, with the brand logo in the top left-hand corner.
"The design intent was to represent the sensory cues that one associates with the occasion of eating chili: warmth, slow cooking, the melding of spicy, hearty flavors with fresh toppings" explains Haspert."We were inspired by thinking about and researching the type of visual language a die-hard chili cook-off contestant might be attracted to." The pouch is rotogravure-printed in seven colors by a proprietary converter.
Haspert says that since it was launched last summer, Progresso™ Chili has been well received by consumers. "It's clear that consumers are seeking quick, simple meal ideas that taste like homemade, and Progresso Chili is a great option." The product is available nationwide in the chili and soup aisle of major grocery chains for $4.99 per pouch.
Companies in this article