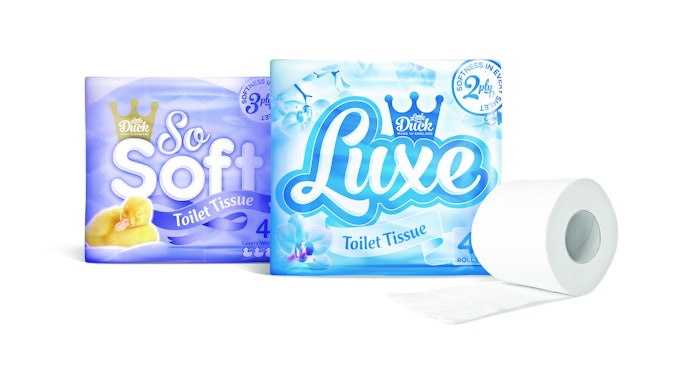 U.K.-based Task Consumer Products, a small family-owned business operating in the Midlands, recently approached Sun Branding Solutions to help create the design and branding for its new kitchen and bathroom paper products, which include two new toilet rolls—Little Duck Luxe and Little Duck So Soft—and the Little Duck Ultra kitchen roll. Sun Branding also managed branding for the new Jumbo and Monster brands for Task's more heavy-duty kitchen roll lines.
The new toilet paper range, which offers a two-ply value and three-ply luxury product, features a design with soft coloring and a fluffy yellow duck character known as the Little Duck. A small crown embellished with "Made in England" sits above the brand name, emphasizing the British heritage of the business.
The brand design and name were developed to create a sense of unity throughout the range, with the Little Duck Luxe, So Soft, and Ultra product names developed to emphasize softness and luxury, while still encompassing value for money. Meanwhile, the Jumbo and Monster brand of kitchen rolls emphasize their toughness and absorbency.
Says Kate Fischer, Senior Account Manager, Sun Branding Solutions – Creative, "The challenge set out by Task Consumer was to create a unique product in a saturated market. One challenge in particular was achieving the soft look on flexographic film. After consulting with our own print specialists at Sun Branding Solutions – Graphics, we were able to create a perfectly soft finish to the packaging. The Little Duck character is primed to take on the other icons of the toilet paper sector."
Nikul Patel, Business Development Manager of Task Consumer, says, "With the introduction of new printing machinery, we're now able to create a product of a higher quality than ever before. We therefore wanted to develop a brand that represents both quality and value.
"With the saturation within this particular category, we needed an agency with a proven track record that would listen to our needs. Sun Branding Solutions was the perfect partner to help us develop a unified product line that delivers our message of quality combined with value for money."
Companies in this article