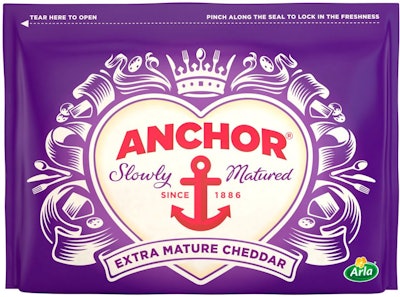 Dairy company Arla Foods of Denmark is hooked on a new easy-open/reclose system for bags of its U.K. Anchor-brand Cheddar cheese blocks. The system—the Easy-Lock by Aplix—uses self-mating micro CD (cross-direction) hooks that eliminate the need for precise mechanism alignment. The system also provides consumers with sensory feedback to indicate when the package is closed, does not fail when contaminated with product, and works in freezer conditions.
According to Caine Folkes-Miller, Business Development Director for Aplix, Arla approached Aplix looking for a sealing solution for a new package for its block cheese after research highlighted consumer frustration with existing reclose mechanisms. "They had not used reclose up to this point and did not want a 'me-too' product to replicate other packs in the market."
The Easy-Lock is constructed food-grade polyethylene that is heat-sealed onto flexible film. During limited launches by Aplix of the system in 2010, Folkes-Miller said "consumers found the product the easiest system to reclose, specifically for both young and older demographics." He adds, "Opening is a more gradual process so no danger of a sudden burst, spilling product, as with more traditional systems."
Anchor Cheddar in Lighter Mature, Extra Mature, and Mature varieties, in light blue, purple, and red flexible packaging, respectively, was launched with the Easy-Lock in 2013.
Companies in this article