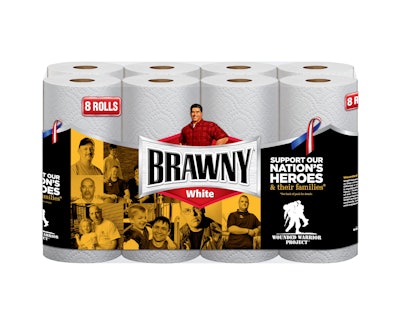 Store shelves continue to carry multipacks of Georgia-Pacific's Brawny brand of paper towels in a film overwrap that highlights the company's Wounded Warrior Project campaign (WWP) that encourages consumers to make donations by visiting the WWP website.
As was the case when GP initially began using packaging to benefit the WWP, package design was created by Bulletproof. The 1.5-mil low-density polyethylene film comes from Accredo Packaging. Flexo-printed in five colors, the pack highlights a specific Wounded Warrior's story and includes a QR code that links to the Facebook page for more information.
The Brawny packaging highlights the WWP partnership and explains how consumers can get involved (by "Liking" the Facebook page, leaving a note of thanks on the Facebook page, or texting THANKS to the indicated number). The packaging also encourages consumers to make their own donations by visiting the WWP website.
Georgia-Pacific uses the packaging message as part of its efforts in partnering with WWP, helping to raise awareness and resources for the growing nonprofit organization that strives to help honor and empower our nation's Wounded Warriors
This is the Brawny brand's largest corporate social responsibility initiative to date and its most significant charitable contribution this year. Key campaign highlights include Brawny's direct donation of $250,000. From now until December 31, 2013, Brawny will also donate $1 (up to $350,000) for every individual who shares a "Thank You" note on the Brawny Towels Facebook page, "Likes" Brawny Towels on Facebook, or texts THANKS to 272969.
Special Brawny paper towel packaging highlighting Wounded Warrior stories that will be in participating retailers across the country. Packaging World first reported on the Brawny/WWP project last year.
Companies in this article