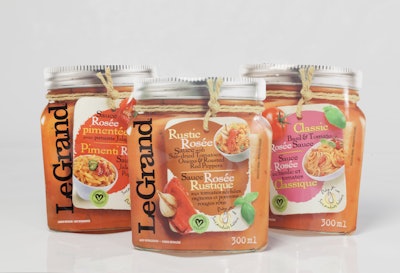 A clever, cook-in pouch for LeGrand brand Rosée sauces from La Maison Le Grand, of St-Joseph-du-Lac, QC, Canada, takes the shape of an old-fashioned canning jar, complete with a hand-lettered tag attached with a cord. The stand-up pouch, from Flair Flexible Packaging, holds 300 mL of a new line of dairy-free, vegan tomato sauces in Rustic, Spicy, and Classic varieties.
For several years, La Maison has supplied its savory pesto and pasta sauces in conventionally shaped stand-up pouches with plastic dispensing closures. "It's become a significant brand identifier," says Chris Shadbold, vice president of sales and marketing for the company. To introduce its new line, La Maison collaborated with Flair to produce a faux canning jar shape.
"The vibrant imagery of the package ensures our customer that our new dairy-free, vegan creamy pasta sauce, known in Canadian markets as Rosée, will be equally dynamic," says Shadbold. "The rounded shape, when filled, and the almost three-dimensional optical illusion of the tied tag and cord make people look twice. That means our packaging is doing its job perfectly—grabbing people's attention."
The top of the microwavable pouch is printed to look like the metal lid of a canning jar, with instructions on the back indicating that the customer cut the "lid" off to open the pouch. Preparation consists of three minutes in the microwave, stirring half way through. According to Flair, the three-layer laminated structure is formulated to minimize oxygen transfer and maximize product freshness and shelf life.
La Maison's new dairy-free, vegan Rosée line launched in Canadian markets in February and is expected to debut in the U.S. in September.
Companies in this article