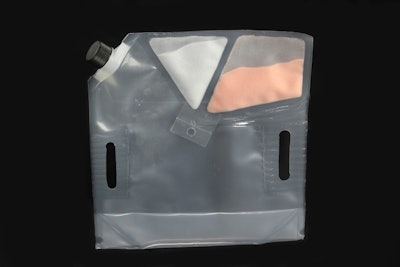 Combine the expertise and resources of a contract manufacturer/packager, mix it with the knowledge gained from working with the packaging departments of major universities, sprinkle in some old-fashioned entrepreneurial spirit, let those ingredients simmer, and you've got an innovative package stew cooking in the pot. That's exactly what's happening at LiDestri Food & Beverage, a Fairport, NY-based manufacturer known best for its sauces, dips, salsas, beverages, oils, and spirits.
To add more spice to the mix, LiDestri Food & Beverage not only manufactures products, but is now also planning to provide creative new packaging based on the knowledge gained from these resources. And for more kick, the company, led by its CEO Giovanni LiDestri, is aiming to move into pharmaceutical, nutraceutical, and cosmetic markets. At press time, the new packaged products were not yet on the commercial market.
To explain these considerable changes, enter David DiLiberto, the company's director, Business Development, and formerly president of Marsupial Packaging, which is now a part of LiDestri Food & Beverage. DiLiberto explains, "There are several variations or designs of this packaging technology, however it can best be described as a collapsible, multi-compartment flexible plastic container that may have several segregated compartments, where the seal or seals may be ruptured and the contents mixed."
The packaging can hold product mixes including powder and powder, liquid and powder, liquid and liquid, powder/liquid, and empty. DiLiberto believes the technology will be able to provide for novel parenteral and clinical nutrition delivery in hospital, pharmacy, or home healthcare venues. Features touted for the packaging include the following:
• Contents are kept separate prior to mixing, maintaining quality, freshness, and taste
• Preportioned medication mixture for nursing or pharmacy staff
• Easy to use and operate, even for those with dexterity challenges
• Multi-port/spout options
• Stand-up, lay-flat, or hang/IV design
• Large graphic/text area
• Individual or unit-dose customization
• Antibiotic delivery/administration
• Source reduction
• Shelf space advantages in space-limited markets such as urban and/or Europe
Segregated chamber(s) may be positioned at various locations within the bag. DiLiberto says the technology does not use the seal-rupture technology common in double, triple, and quadruple-chamber bags. "By utilizing a different and unique seal-rupture technique, this may help create separation and differentiation from current, competitive, or 'like' technologies. This differentiation may help companies enter new markets, increase market share, and initiate product growth. This packaging technology offers admixture fill opportunities in clinical nutrition or other departments for nursing or pharmacy staff."
A bit of background
Years ago, DiLiberto set out to develop a children's juice box company to provide a healthier alternative to existing product offerings, which he describes as "a whole bunch of sugar waters, with nothing really nutritious." He conducted research on juice box companies and met with people at Cornell, Syracuse, and the University of Rochester. He also discussed options with food scientists, who advised him to research packaging that could provide separation of contents within the package.From there, DiLiberto targeted packaging-focused universities, conducting research with Rochester Institute of Technology's Packaging and Science Div. "We came up with an initial design with an inch-and-on-half chamber secured to the top and the bottom. When you pull the tab on the bottom gusset, it releases the contents of the chamber via a weakened part of the seal in the middle chamber," DiLiberto explains. Since then, the design has evolved and changed to the point where today there are multiple design options with increased application possibilities."Probably the most important potential application is in pharmaceuticals," he contends, "because multi-chamber packaging already exists in the medical industry and certainly within parental/clinical nutrition and some antibiotics." As an example, DiLiberto points to Baxter's Clinimix multi-chamber bag (see their demo video) for parenteral nutrition.
According to Thomas Curtis, RPh, MPA, and pharmacy director, "The Marsupial design allows for pressure to be concentrated at the correct location so that other parts of the container aren't inadvertently stressed, potentially causing failure of the package. This simple and elegant idea has the potential to completely change the packaging paradigm. Imagine a container where the chambers can be mixed in a certain order or only partially used and saved for a later time. By allowing the user to select which seals to break, it becomes possible to package multiple medications in one container that need to be administered consecutively or to package products that need to be mixed in a specific order. Oncology pharmaceuticals have notoriously complicated dilution regimes for some of their products that perhaps can be simplified using this type of container."
Besides trying to sell the packaging to potential end-user firms, DiLiberto says LiDestri is also working on packaging material selections with its supplier-partners, both of whom are also based in Rochester: American Packaging Corp. and Pactech Packaging, LLC. Of course, packaging substrates, thicknesses, barrier properties, etc., will depend on the contents within the pack. Says DiLiberto, "If the product contains more chemical or toxic components, the structure and material would probably have to change compared to product with simpler contents. Packaging would need to be made of FDA-approved materials, and offer commercial appeal."
To fill or not to fill, that is the option
Not only could LiDestri serve as a contract manufacturer and fill product into such packaging, but it could also ship empty packaging materials, offering customers source reduction and transportation cost savings. LiDestri's Fairport headquarters plant and its Fresno, CA location provide full retort and hot-fill capabilities. Its brand new, state-of-the-art Rochester, NY, facility, with more than one million sq ft of manufacturing and warehousing space, also houses an Innovation Center, with options for specialty and boutique-style brands. It also serves as a distribution point for other products. The Pennsauken, NJ, location specializes in hot-fill and aseptic beverage manufacturing, while its Lansdale, PA, facility manufactures cold-fill and aseptic beverages.
DiLiberto met with LiDestri Food & Beverage last year. After considerable discussion, it was determined that with such tight profit margins in food products, the multi-compartment packaging might offer greater opportunities in pharmaceuticals, nutraceuticals, chemicals, and cosmetics. DiLiberto officially joined the team last November with the goal of working together to develop commercial applications. A second patent application was submitted in January 2013.
LiDestri Food & Beverage envisions shipping either filled or empty packaging to manufacturers and brand owners, or to hospitals or pharmacies. DiLiberto provides the example of B. Braun's
Cefazolin Duplex drug delivery system, whose Web site provides product/package usage instructions.
"You can decrease shelf space requirements and increase product shelf life. You can also fill the packaging with products that require separation due to instability," he says. "You mix products as needed within the packaging." The flexibility to meet customer needs would be met via the partnering of LiDestri Food & Beverage, American Packaging, and Pactech Packaging.
"This is true innovation and development from idea to commercialization," says DiLiberto. "And that's the beauty of this—it's a development with different partners, delivering open innovation." Such innovation, he believes, can help in the growing area of home healthcare, and health-and-beauty/cosmetics. "This is a perfect type of device for caregivers. It ties into the Healthcare Packaging magazine cover headline, 'It came from the future' because you can apply this packaging not only to current applications but also to meet products reflected in the trends we see moving forward. We are getting close [to commercial applications], with a couple of very interested parties right now."
Watch a video describing the manufacturing and packaging capabilities of the LiDestri organization.
For more information, contact DiLiberto by phone at 585.388.4122, e-mail at davidd@lidestrifoods.com, or visit the company's Web site.
Companies in this article