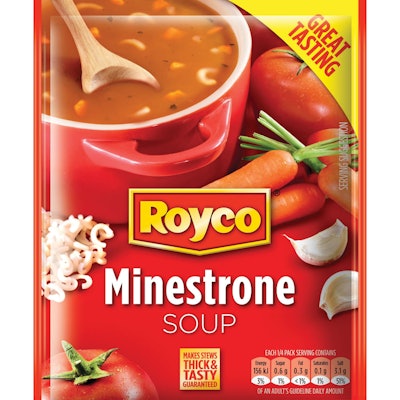 By replacing a paper/foil lamination with a non-foil lamination that includes a special coextrusion of polyethylene polymers with high-barrier additives, Mars Africa has brought about a 25% carbon footprint reduction in the packaging of its Royco brand instant dry soup powder.

"The carbon footprint calculation is based on the energy used to produce an equivalent material using foil as a barrier compared to the energy used to make this new material," says Lisa Ronquest-Ross, R&D director at Mars Africa in Capetown, South Africa. She also notes that this project is consistent with the Mars Global objective of "Better Food Today. A Better World Tomorrow."

Supplied by packaging partners Afripack and Mondi Extrusion Coatings, the new packaging material is an extrusion lamination of a 60 gsm clay-coated paper and the special coextrusion of polyethylene polymers. It was specifically designed for Mars Africa.

"The barrier properties have been designed to mimic those of foil without the challenge of pin holing and flex-cracking that foil is prone to," says Ronquest-Ross. "These barrier properties have allowed us to achieve a shelf life equivalent to the previous foil barrier material."

The material is supplied in rollstock and sent through a horizontal form/fill/sealing system at the Mars Africa plant. Although the development took a couple of years to perfect, the material change has been implemented without any need to modify either of its current packaging lines. One line is anchored by a horizontal form/fill/seal system from Bosch Packaging and the other by a machine from Laudenberg. Ronquest-Ross adds this: "During the development phase the team faced significant challenges, not only from initial trial reels that disintegrated on line, but also due to shifting mindsets skeptical about whether non-foil packaging would provide enough barrier and would be sufficiently puncture resistant and food-safe."

An added benefit gained in the material switch is that the new structure costs about 10% less than the one it replaces. Further savings are achieved because the introduction of a special sealing polymer has brought about extensive energy and cost savings by reducing sealing temperatures from 175º C to 115º C on Mars' high-speed filling lines. "We haven't yet calculated the additional carbon footprint reduction that comes with the lower sealing temperatures," says Ronquest-Ross.
Companies in this article