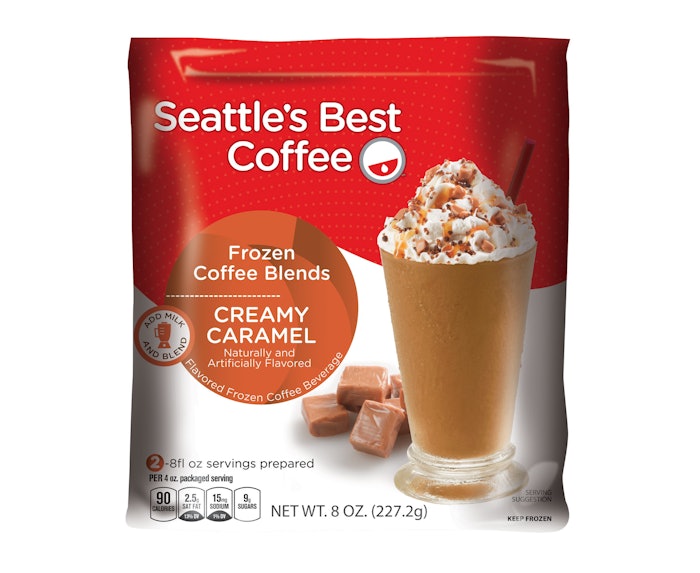 Bearing Seattle's Best Coffee's signature red-and-white colors and logo, and scrumptious photography of frosty, café-style blended coffee beverages, vibrant pouch packaging has been designed to beckon consumers to the first brand of at-home frozen packaged coffee drinks. Rolling out in retail stores in late May, with national distribution in June, four varieties of Seattle's Best Coffee Frozen Coffee Blends, from Inventure Foods, Inc. of Phoenix, will be available in 8-oz flexible stand-up pouches.
"We needed packaging that really popped through the freezer window, and the pouches do exactly that," explains Inventure Foods executive vice president of marketing Steve Sklar. "The freezer case can provide some challenges that shelf-stable do not: primarily the glass, the issue of condensation on the glass, and the fact that products are typically stacked tightly due to the premium of the space."
The three-layer film construction for the pouch, produced by Bryce Corp. using a tandem coextruded method, consists of a polypropylene/polyethylene coextruded blend, MPET, and a PE blend for the sealant layer. Chosen for its printability and product protection, the material allows the package to stand up in the freezer section, "so customers can easily find the product when all four SKUs are placed together side-by-side."
Artwork for the glossy, eight-color flexo-printed packs was created by Inventure's team of art directors in collaboration with Seattle's Best's brand managers and art directors, to leverage the Seattle brand's 40 year's of experience in coffee beverages. "Consumers should expect quality, taste, and convenience from Seattle's Best Coffee Frozen Coffee Blends, and our packaging needed to quickly convey that," says Sklar. "The photo of prepared beverages featured prominently on the front really invites consumers in, and the Seattle's Best Coffee logo lets them know the quality of the contents within. It's a great combination on pack."
Each pouch holds enough frozen product to create two 8-oz coffee beverages, when combined in a blender with eight ounces of milk. At retail, the product will carry a suggested retail price from $2.99 to $3.49 per pouch, depending on the variety.
"The recent growth of iced coffee suggests that consumers no longer view coffee as just a morning routine," says Sklar. "We see great potential for a delicious frozen coffee drink that can easily be made at home or at work any time of the day."
Companies in this article