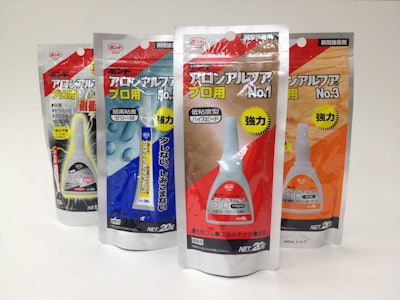 Details are scarce, but this development seems worthy of some coverage only because of how unusual a breakthrough MoistCatch, which comes from Kyodo Printing Co., appears to be. Kyodo Printing claims that with MoistCatch it has found a way to combine a moisture-absorbing component in the resin itself. It would be nice to know what resin, but that's one of the many details Kyodo Printing is not willing to share. Apparently, the film structure in the photo shown here is a lamination that includes PET/foil/MoistCatch/sealant layer—at least, that's the structure described as "typical" in on-line literature from Kyodo Printing.
The adhesives sold by Toagosei—which, by the way, fly under the Aron Alpha Instant Krazy Glue brand in the U.S.—are extremely sensitive to moisture. By putting the primary package (whose material composition Toagosei chooses not to identify) into the MoistCatch standup pouch, shelf life is extended—apparently.
No details on the relative cost of MoistCatch are available. But Kyodo Printing is positioning MoistCatch as a way of adding moisture-absorbing functionality to a package where adding a separate desiccant pouch is impractical because of space constraints. Kyodo Printing also suggests that productivity improvements can be gained when a packaging line needn't include desiccant pouch insertion equipment and inspection systems to guarantee that a desiccant pouch is in each package.