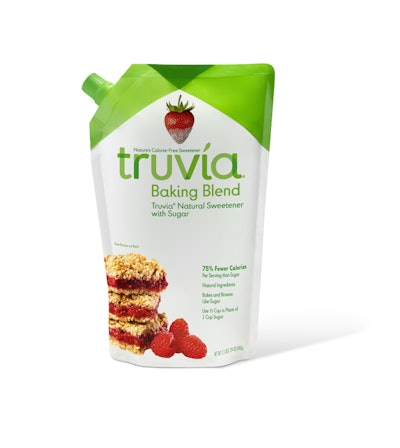 Baking can be a messy experience, but when it comes to sugar, Cargill's Truvia Baking Blend now makes the process easier thanks to a clear 1.5-lb preformed pouch with convenient pour spout.
"Innovative, elegant packaging is important to the Truvia brand because it is an excellent way to communicate our brand values to the consumer: zero-calorie, natural sweetness delivered in an uncomplicated form," says Eelco Blum, project manager, Truvia Consumer Products at Cargill. "The packaging is also a vehicle to showcase the clean graphics of the Truvia brand identity. As a premium brand, Truvia is constantly looking to deliver high-quality, value-added packaging to the consumer."
Cargill believes the sugar substitute category had not seen any major packaging innovations until the Truvia brand launched its spoonable jar in 2010. The pour spout-equipped pouch, says Blum, "offers another significant packaging breakthrough. The easy-to-pour spout makes for a cleaner kitchen while allowing the consumer to focus on baking sweet recipes with fewer calories than using sugar."
The stand-up, Doypack-style pouch and pour spout are supplied by Dutch Pack International. The PET pour spout is applied to the bag as the last step of the production process of the preformed pouch. The pouch consists of three layers: 12 microns (0.47 mils) PET/15 microns (0.59 mils) nylon/130 microns (5.12 mils) polyethylene. It is gravure-printed in eight colors. After the pouch is printed and sealed, the corner is removed and the spout is joined to the pouch. The spout allows for easy opening and closing by using a regular threading system.
Pouch filling is outsourced at this point. Says Blum, "We are looking to optimize the filling of the pouch using either preformed pouch filling or form/fill/seal technology."
Truvia Baking Blend is a blend of Truvia natural sweetener and sugar with 75% fewer calories per serving than sugar. It is engineered to bake and brown like sugar. A 1⁄2 cup has 190 calories, provides the same sweetness as one cup of sugar with 760 calories, and offers an easy conversion from full sugar recipes. The 1.5-lb bag of Truvia Baking Blend has the equivalent sweetness of 3 lb of sugar, or approximately seven cups, enough to make 13 pies, nine batches of cookies, or six batches of brownies. The 1.5-lb package is available at grocery, retail, and natural product stores nationwide for a suggested retail price of $6.99.
"We are proud of the new Truvia Baking Blend packaging and feel it represents the ideal combination of premium aesthetics and improved consumer functionality," says Blum.