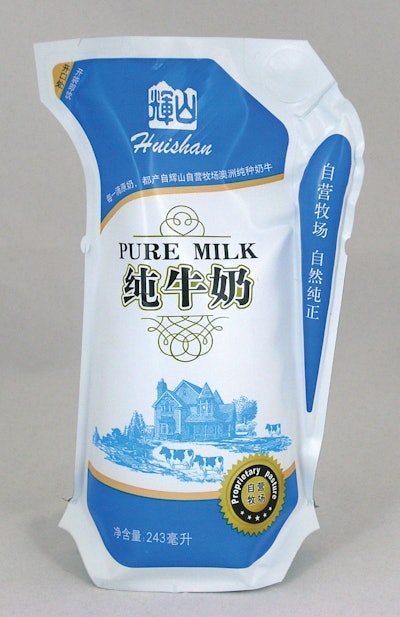 Shenyang Huishan Dairy of the Liaoning province in northeast China is the first to commercialize in single-serve sizes an unusual standup pouch called Ecolean Air Aseptic. Holding 240 mL of milk needing no refrigeration and retailing for about 2.50 Chinese yuan (U.S. $ 0.3941), this aseptic pouch was preceded by an Ecolean Air pouch that Huishan introduced in 2009. But the pouch that debuted in 2009 is for pasteurized product requiring refrigeration. This new aseptic pouch requires no refrigeration and has a shelf life comparable to other aseptic packaging formats, which usually are good for one year. Huishan, though, gives the pouches a 90-day best-by date.
"In the consumer's mind, shorter shelf life means 'fresher,'" says a Huishan spokesperson. "We also have to consider the requirements of the retailer." What it all comes down to is simple enough: In Huishan's sales radius, 90 days is the optimal best-by date.

Both the pasteurized and aseptic versions of Huishan's pouch are made possible through technology developed by Sweden's Ecolean Group. While this technology for pasteurized product has been in the marketplace for a while and its use is widespread around the world, no application of it exists in the U.S. So a little background is probably in order.

First, this is not a pouch that is formed and filled in line from rollstock. The pouches are made by Ecolean in two plants—one in Helsingborg, Sweden, for the European market and one in Tianjin, China, for Asian markets—and shipped to customers on reels holding thousands of units. In the case of Huishan's single-serve Air Aseptic pouch, a reel holds more than 7,000 containers. The Ecolean filling system opens, fills, and seals each hygienically sealed package in 2.4 seconds. On Huishan's aseptic line, filling is done five across at 150/min.

Value proposition
The package's value proposition is basically two-fold. First, its air-filled "spine" makes it easy to handle, which appeals to consumers of all ages. And second, it requires less raw material than alternative packaging formats, which makes it attractive from a sustainable packaging standpoint.

Like the filling and sealing machinery, the packaging material was developed by Ecolean. Called Calymer, it's a thin film comprising plastic (PE and PP) and calcium carbonate (40% by weight). Ecolean refers to the calcium carbonate as "one of nature's own materials." Its common name is "chalk." The unique properties of Calymer allow a lightweight package that takes less energy to produce. Ecolean makes the following claims on comparative weights for 1-L packages:
Ecolean Air 16 g
Gabletop 31 g
Gabletop with reclosure 37 g
HDPE bottle 32 g
PET bottle 36 g

Ecolean also claims that of the five 1-L packs listed above, the Ecolean Air is the "greenest" when it comes to energy consumption, production waste, water pollution, and greenhouse gas emissions.

While the food-contact side of the pouch material is an extrusion coating of PE, the rest of the material from which the pouch is made is essentially a seven-layer cast coextrusion whose various layers each contribute different properties. For example, the smooth surface is for high-quality printing, which is done on a flexo press in four colors. A barrier to oxygen is provided by other components in the coextrusion, while yet others provide stiffness so that the package stands easily. After surface printing of the finished structure, a protective coating is applied to protect the print.

As for the calcium carbonate, Ecolean says "it's mixed into the inner layers to give stiffness and whiteness while reducing the amount of plastic that is required."

Air?
The use of the word "air" in Ecolean's description of its pouch works on two levels. First, it refers to the pouch's air-like lightness. But it also refers to a unique air-filled "spine" running vertically along one side of the pouch. This feature acts as a handle, making it easy to pour from the pouch once it's been opened at the perforated corner tear. This spine is filled with air during the filling process, which takes place at 150 pouches/min at Huishan.

Ecolean's Model EL4 is the machine that Huishan uses for the production of its aseptic pouches.  Suspended from a walking beam, the pouches move from infeed to opening to filling to sealing and, finally, to discharge. An automated splicing system assisted by a dancer-bar accumulation station means that each pre-sterilized roll of pouches can be fed into the machine with no need to halt production.

Shortly after the roll of pouches unwinds into the machine, UV light and a hydrogen peroxide chamber sterilize the outside of the pouch material. The inside is already sterile thanks to a proprietary electron beam sterilization process developed in-house by Ecolean.

Rotary knives cut the tops off the pouches, and then they enter the filling chamber. Each pouch has its top pulled open by a pair of vacuum cups. Product filling and sealing are next, and then in an ensuing station the preformed spine compartment is automatically filled with air.

Huishan's first project with Ecolean technology was for both yogurt and pasteurized milk products. Aggressive marketing and merchandising efforts based on a "Fresh Doctor" theme helped boost the unconventionally packaged new products to such an extent that within a month after launch a second Ecolean filling machine was installed. These early successes with Ecolean technology made Huishan a natural candidate for being the first to commercialize Ecolean Air Aseptic in a single-serve format. It should be noted that Ecolean Air Aseptic pouches in a multi-serve format have been commercially available to consumers in Russia since 2009. But Huishan is first with Ecolean Air Aseptic in single-serve pouches.

The likelihood of a successful launch of Ecolean Air Aseptic was no doubt enhanced by Huishan's wide-ranging experience in other well known aseptic packaging formats, including Tetra Fino, Tetra Brik, and PET bottles. When asked to put the relative cost of the Ecolean Air Aseptic in some perspective, a Huishan spokesperson says it's more costly than Tetra Fino (Tetra Pak's low-cost, roll-fed, aseptic form/fill/seal solution for the production of pouches as opposed to the well known Tetra "drink boxes") but less costly than Tetra Brik. Ecolean points out that while this pricing hierarchy holds true in the specific case of Huishan, it wouldn't necessarily apply in other markets or regions.

Huishan ships its pouches in paperboard cartons typically holding 16 pouches each. The target demographic, of course, is young people.

"We looked for a unique package type in a market where many homogeneous products exist," says a Huishan spokesperson. "We want to create competitive products that are vital and differentiated."