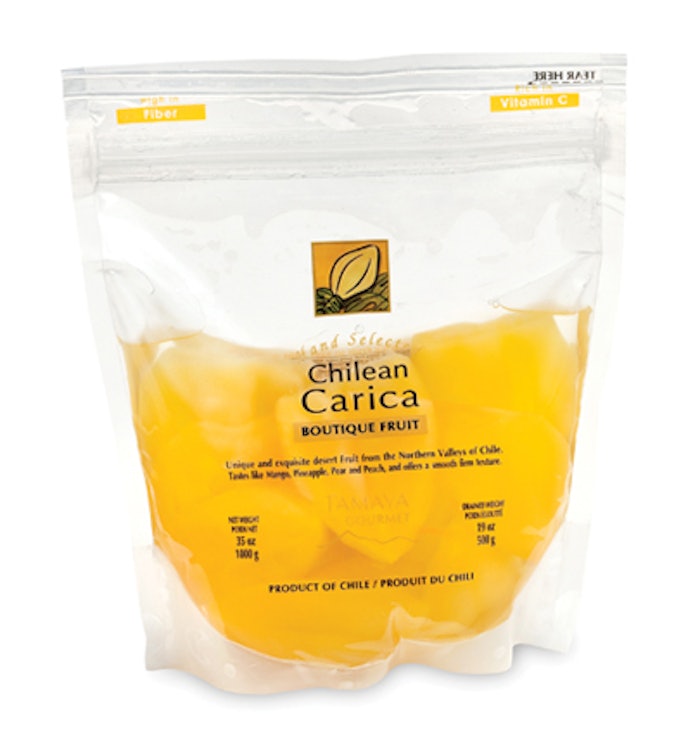 Made by Ampac Flexibles on equipment from Totani, the pouch has a zipper reclosure feature that can withstand retorting and features Ampac's linear tear technology for straight and easy tearing of the pouch.
From the inside out the three-layer adhesive lamination consists of 100-micron cast polypropylene/15-micron oriented polyamide/12-micron polyester. The polyester comes from Kuraray and uses that firm's proprietary Kurarister technology. This is a transparent high gas-barrier retortable film with Kuraray's proprietary organic/inorganic hybrid composite coating on both sides. These coating layers are extremely durable, retortable in a wide range of retort methods and conditions, and exhibit high resistance to physical stress such as elongation and flexing. Kuraray says its Kurarister line of films has the highest gas barrier among existing plastic films. The marketplace sees Kurarister as a desireable alternative to foil (because Kurarister is clear) and to PVDC (because Kurarister involves no polyvinyl chloride, a material that, rightly or wrongly, raises environmental red flags). In the Tamaya pouch, its barrier properties help deliver a 12-month shelf life.
The sustainability benefits delivered by the pouch, which replaces a glass jar and threaded closure, are almost more impressive than its technical achievements:
• A pouch that holds 35 oz of product weighs 91% less than a glass jar holding just 16 oz of product.
• A total of 918 filled pouches holding 35 oz each fit on a standard pallet measuring 3.61 x 3.94 ft. The same pallet holds only 330 glass jars each filled with 16 oz of product.
• Just eight empty jars can be stored or shipped in the same amount of space as 143 empty pouches, and the pouches hold 35 oz of product while the jars hold 16 oz.
Tamaya Gourmet, it should be pointed out, is in Chile, where the unique carica fruit grows. But much of what it sells is shipped to customers in North America, some of whom buy it over the Internet. Considering the long distances that separate producer and consumer, the logistical and sustainable-packaging advantages offered by the pouch are even more meaningful.
Daniel Vitis, general manager of Tamaya Gourmet, says that an additional advantage gained since switching to the pouch is that container breakage is just about eliminated. "This package with its zipper and tear cut is very appealing to consumers," he adds.

Companies in this article