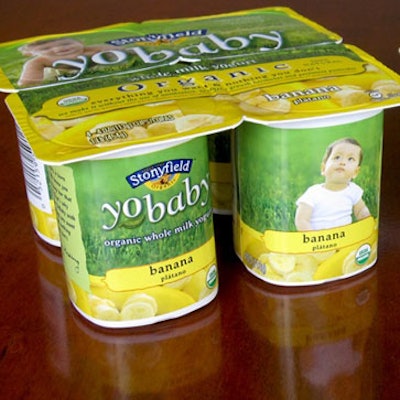 The world's largest organic yogurt producer, Stonyfield Farm, Londonderry, NH, has embraced bioplastics, announcing today the launch of new plant-based packaging for all of its multipack form/fill/seal containers. The new polylactic acid cups, made from Ingeo™ resin from NatureWorks LLC, replace previous packaging made from polystyrene, resulting in 48% less greenhouse gas emissions.
"When we do packaging initiatives, we usually try to reduce GHGs by at least 5 percent," Stonyfield vice president of Natural Resources Nancy Hirshberg told Packaging World in an exclusive interview before the launch. "When we approached this project, it was really a priority for us to get out of polystyrene. We were hoping it would be at least a net neutral. So when we got the life-cycle assessment back, we were stunned."
In terms of Stonyfield's environmental footprint, packaging has the second biggest impact (15%) after milk (43%). The company produces approximately 200 million multipack cups per year for products that include YoBaby, YoToddler, YoKids, B-Healthy, B-Well, Probiotic, and O'Soy. "This single change will reduce our packaging climate impact by 9 percent," Hirshberg adds
The innovation, which is said to be the first use of PLA for f/f/s dairy containers, continues the company's tradition of trendsetting when it comes to making improvements for more environmentally friendly packaging. With only 5% of the impact of packaging resulting from end-of-life, Stonyfield has concentrated its efforts on reducing materials, rather than recycling. According to Hirshberg, Stonyfield was the first to lightweight its yogurt cups (1990s), as well as the first to eliminate the plastic lid in favor of flexible foil lidding (2002).
Meticulous research
Last April, at the NatureWorks Innovation Takes Root conference, Stonyfield vice president of sourcing and product development Rolf Carlson laid out those conditions that would be necessary in order for the company to consider the use of bioplastics in its packaging. He noted, "We would have to validate the science around bioplastics before using them. We would want to be sure there is an absence of negatives."
Since then, Stonyfield has done its homework, taking a holistic approach to evaluating the use of biopolymers, including the origin of the feedstock, the safety of the additives, the end-of-life potential, the functionality of the final package, and the cost. Its first goal was to confirm that PLA does indeed provide an enhanced environmental profile versus PS. This was validated through a third-party study comparing the LCA of PLA versus PS by Dr. Roland Geyer of the University of California at Santa Barbara.
"What he determined is that PLA outperforms PS in terms of energy, greenhouse gas emissions, and human toxicity, which for us were the most important issues," Hirshberg explains. The 48% lower global warming potential translates to 4,000 barrels of oil that will be saved annually by Stonyfield as a result of the packaging change.
Film converter Clear Lam Packaging is credited with making PLA functional with f/f/s processes through the use of additives. Rollstock for the cups consists of 93% PLA, 4% titanium dioxide (a whitener), and 3% other additives. Because Clear Lam could not reveal the additives used in the material, Stonyfield hired consulting firm Pure Strategies to develop a list of chemicals that the company did not want used in its cups. The list includes 2,600 specific carcinogens, mutagens, reproductive toxins, endocrine disruptors, and persistent, bioacculmulative, and toxic metals.
Sustainable farming supported
One big concern for Stonyfield in pursuing bioplastics was the issue of feedstock production. "For us at Stonyfield, the way that corn is grown conventionally today is not really consistent with our philosophy," Hirshberg explains. "So in order for us to move forward with this, we needed to feel good about the way the corn was being grown."
Because NatureWorks cannot ensure that the feedstock used for the resin for Stonyfield's cups is non-Genetically Modified (GM) corn, Stonyfield has become the first major purchaser of offsets through the Working Landscapes Certificate. Under the program, Stonyfield contracts for the equivalent 500 acres of corn needed annually for its packaging to be grown to the WLC sustainable agriculture standards. The nonprofit Institute for Agriculture and Trade Policy (IATP) recruits farmers and oversees the standards and certification to WLC requirements.
The program, which will result in the production of 1.7 million lb of non-GM corn annually, comes at a cost of more than $36,000 per year to Stonyfield, in addition to its material costs. Most of the funds go directly to the farmers—a fact that was key to Stonyfield's involvement, Hirshberg adds. "We see this money being used as a market lever to drive farmers to more sustainable practices," she says.
For Stonyfield, however, corn is considered a transitional step. Ultimately, the company plans to move to cellulosic fiber as a feedstock, once the technology is commercially viable—an innovation that the Department of Energy estimates will occur by 2015.
Despite the cost of purchasing offsets in addition to the investment in a bioplastic material, Hirshberg happily relates that the switch from PS to PLA will not result in a cost increase, either for Stonyfield or for its customers. "Between a number of factors, including the fact that the cost of polystyrene is so high right now and we have reduced the breakage of our packaging with PLA, we are actually going to be cost-neural," she reports.
Potential for fully closed-loop system
At present, the end-of-life scenario for the new PLA cup is no better than it was for its PS predecessor: Neither are currently widely recycled. But Stonyfield believes that PLA has a greater potential to provide a fully closed-loop system. Last spring, BioCor announced its plans to begin developing a recycling infrastructure for PLA, based on a successful chemical recycling system in Belgium through Galactic. http://www.lactic.com/index.php/news/item/4
"I have to say, as someone who has been in involved in this industry for 20 years or so, this is the first time I've really seen a technical nutrient cycling, a real, true, fully closed-loop cycle," says Hirshberg. "So we're really excited about that and about building the recycling infrastructure."
First, however, Stonyfield must develop bioplastic-based materials to replace the paper and metallized PET that are being used for the container's label and lid, respectively. After that, the company plans to work with BioCor to optimize its PLA rollstock to be compatible with BioCor's chemical recycling operations.
Composting, however, will not be recommended as an end-of-life option. Currently, the film is too thick to compost within the time frame required by ASTM standards. But even if Stonyfield lightweights the material, Hirshberg says composting is "counterintuitive," as it releases back into the atmosphere the carbon embedded in the corn and then the resin during manufacturing. "We're not saying that composting is bad in all cases," she says, "but we do think there is a better option for end of life, and that is recycling."
As for concerns that Stonyfield might encounter some of the same unanticipated consequences as Frito-Lay's PLA SunChips bag, which was recently pulled due to consumer complaints that it was too noisy, Hirshberg says, "Our customers aren't going to notice the difference. Function and cost are always going to rise to the top."
Companies in this article