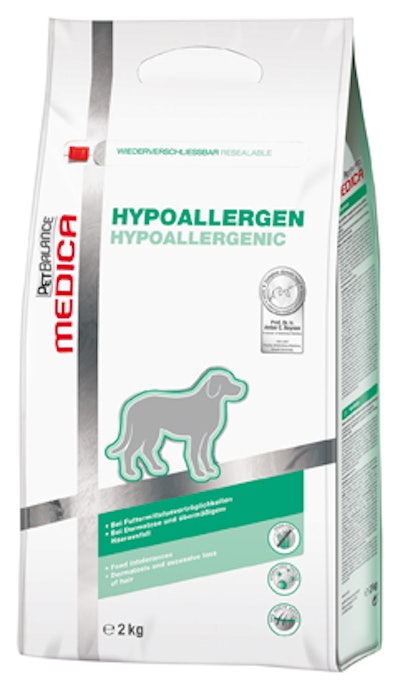 The company operates more than 1,000 franchise chain stores throughout Europe and markets pet foods under eight private label brands.
In July 2009, MultiFit launched a new premium diet/nutrition pet food line for dogs and cats called PetBalance Medica, packaged in stand-up, reclosable bags in 2-, 2.5, and 8-kg volumes. The company wanted premium packaging to complement the new line and worked with Mondi Bags & Films and Pactiv Slide-Rite® to develop the optimum bag choice.
MultiFit required that the new bags have barrier properties to ensure maintenance of ingredient freshness and protection of minerals, flavors, and aromas against degradation. Furthermore, MultiFit wanted a bag design that was convenient to carry, open, and securely reclose. And finally, the company sought package graphics that were distinctive and immediately conveyed the diet/nutrition benefits of the individual products in the line.
The bags developed by Mondi and Pactiv in conjunction with MultiFit meet all these criteria. They feature built-in carrier handles for easy transport, slider reclosures, and excellent barrier properties. The bag is made from a three-layer lamination of transparent PET/metallized PET/polyethelene. The transparent PET is reverse-printed in six colors on a flexo press. Oxygen permeability rate is cm3/m2d bar. Mondi delivers the bags premade, preprinted, and precoded.
Head of MultiFit/Fressnapf's private label food department Jorge Wasel says, "This sophisticated premium product line demands premium packaging. The innovative reclosable packaging solution provided by Mondi and Pactiv exactly responds to this demand. And the graphics explicitly convey the functionalities of the product. Sales figures demonstrate that the brand is well accepted in the market."
Companies in this article