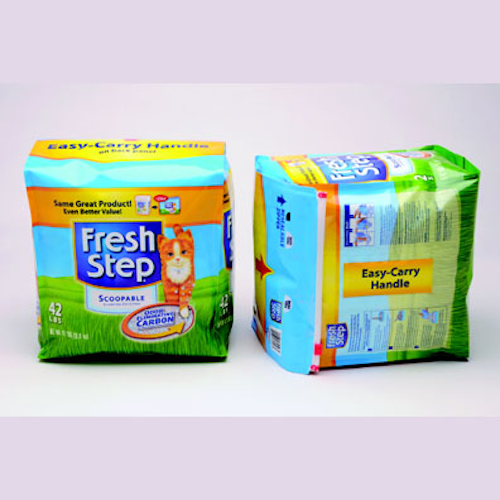 Each bag holds 42 lb of cat litter. The use of the flexible film packaging decreases costs across the supply chain in terms of material usage, warehouse storage space requirements, and freight weights. Associate research fellow for Clorox Services Company Cecilia Melby reports, "We reduced inbound freight and storage by 1⁄13th—that is, we bring in one load of bags for every 13 loads of pails that the bags replaced. This then also translates into storage savings of packaging materials both at our vendors' and in our own facilities."
\Introduced by Clorox in February 2010, the innovative bag design maintains consumer ease of container handling, pouring, resealing, and storing. The bag construction is a reverse-printed (eight-color gravure) PET outer layer laminated to a nylon middle layer and a polyethylene inner layer. Specific gauge and additional structural details are considered confidential. The bag is preformed by Nordenia USA, and is filled and sealed by Clorox on proprietary equipment. Each bag incorporates a slider closing system supplied by Pactiv Corp. The bag's handle system is proprietary to Nordenia.
Melby says that customers have responded positively to the bag packaging option and that sales of the new bags have been on par with sales of the PP pails. She also cites the Walmart Packaging Scorecard comparison of the pails versus the bags regarding sustainability improvements overall. The bag packaging gets favorable marks on recovery, recyclability, sustainability, transportation efficiency, and CO2 emissions.
Companies in this article