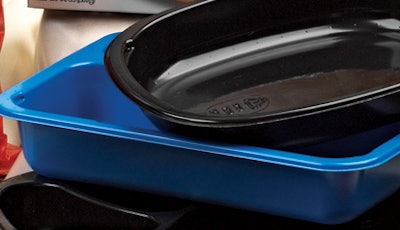 Getting the Food and Drug Administration to "non-object" to direct food contact under dual-ovenable conditions: That was the greatest challenge that had to be overcome as ConAgra Foods worked to commercialize its recycled PET (rPET) tray for its nationally distributed brands of frozen entrees and meals. A fruitful partnership with rPET resin maker United Resource Recovery Corp. (www.urrc.net) and thermoformer Associated Packaging Technologies (www.aptechnologies.com) played a key role in bringing this project from the concept stage to commercialization.
According to Gail Tavill, vice president of sustainable development research, quality, and innovation at ConAgra, the ultra-clean rPET used to make the container is qualified at 40% of the food tray's total content. "This reduces the amount of virgin PET required to support our business by at least 8 million pounds per year," says Tavill. "It has also created an additional value stream for recycled PET, strengthening the recycling infrastructure. ConAgra Foods was the first food manufacturer in North America to utilize this technology."
Also no walk in the park was thermoforming the trays. While the functional properties and chemistry of the new rPET are similar to those of virgin PET, they are not identical. This created several challenges in blending, drying, extruding, and thermoforming the trays so they would meet ConAgra Foods' standards and performance specs. Especially challenging, notes Tavill, was removal of trays from the thermoform tools. Had this challenge not been met—through exploration of alternate tray geometry, release mechanisms, tool design, and surface interactions—it could have limited the amount of rPET that could be used.
Once the FDA and the thermoformability hurdles had been cleared, ConAgra still needed to demonstrate that the trays could perform. "This included plant compatibility through our manufacturing processes, sealing of the lidding material, performance in our blast or plate freezers, and cold fracturing during drops," says Tavill. "It was also essential that the trays would not be damaged during distribution or microwave or oven heating."
ConAgra claims that its tray represents the first application of monolayer rPET for a dual-ovenable package in North America. All other applications of rPET for products of this nature have been in multilayer formats with the rPET not in direct food contact.
Concludes Tavill, "Now that we have implemented recycled content into a traditionally nonrecycled material, our future objective is to work with key players in this industry to develop a recycling infrastructure that will be able to collect and reprocess CPET trays."
See other
Greener Package Award winners
Companies in this article