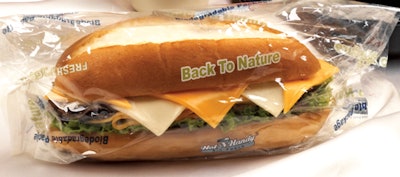 Fresh, cold-case sandwiches and wraps are realizing enhanced product quality and greater package sustainability through the use of Robbie Mfg.'s (www.robbiemfg.com) new Hot N Handy Bio-Pouch. Claimed to be a greener alternative to rigid, hinged plastic containers for fresh, prepared foods, the wood pulp-based film wrap not only absorbs moisture to deter soggy sandwich bread, but it also greatly reduces the amount of packaging materials required and eliminates packaging waste through compostability.
The Hot N Handy Bio-Pouch was introduced last November and is made from NatureFlex renewable wood pulp-based film from Innovia Films (www.innoviafilms.com). Certified to ASTM D6400 standards, the pouch will degrade "Back to Nature" in less than six months if used in a home or industrial compost system, as random, four-color repeating print on the clear film wrap indicates.
An extensive Life Cycle Analysis of the film wrap by Robbie indicates a number of green gains over rigid containers. Among them, the Bio-Pouch uses 92% less crude oil, reduces CO2 emissions by 56%, and reduces packaging material waste, by weight, by 75%, according to Tara Downing, Robbie product manager. "Using the Bio-Pouch greatly increases the product-to-package ratio and reduces the amount of package per 100 grams of product," she adds. While the Bio-Pouch boasts a 56:1 ratio, the rigid container, at 13:1, offers a substantially lower product-to-package ratio.
According to Robbie's calculations, the Bio-Pouch takes 5.5 million lb of material out of the supply chain annually, requires a 78% smaller corrugated case size to ship, allows for 171% more packages per pallet, and reduces the number of trucks required by 63%. These figures are based on estimated sales of 163 million sandwiches sold at retail supermarket deli counters annually.
Summing up the entry's advantages, one Greener Package Awards judge says, "This entry, with its 'Back to Nature' approach to biodegradability, is commendable—especially if it is touted as disposable with the contents. The savings in materials are huge, at 5.5 million pounds of packaging. Well done!"
See other Greener Package Award winners
Companies in this article