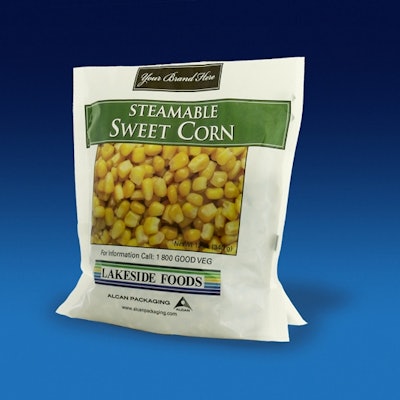 According to its development team, Lakeside Foods' new steamable stand-up pouch for frozen vegetables is a game changer for the Manitowoc, WI-based company.
"Historically, innovation has been left to the brands and not to private-label companies," explains Dave Allen, director of retail sales for Lakeside Foods. "But, more and more, our customers are challenging us to change our business model from being a fast copier of brands to being an innovation driver. Our new packaging for steam-in-pouch frozen vegetables has helped us to accomplish that."
Smart consumer convenience features, an attractive "billboard" facing, a safe steam-venting system, and improved durability during shipping and handling were all innovation requirements demanded by Lakeside Foods' development team. The resulting stand-up steam-in pouch not only surpassed the company's current steam-in-bag structure, but it also allowed its customers to leapfrog many competitive package technologies.
Lakeside Foods is a private label-focused, single-source supplier for a wide array of frozen and canned vegetables that are processed in more than a dozen facilities throughout Wisconsin and Minnesota. The company holds a position in the fast-growing frozen vegetable steam-in-bag category, but wanted to develop an alternative to its lay-flat pillow pouch that would take advantage of burgeoning consumer demand.
Lakeside Foods partnered with Alcan Packaging Food Americas (www.alcanpackagingfood.com) to deliver a next-generation steam-in bag. The new stand-up pouch provides a value-added alternative to the pillow packs the packer had offered. The construction comprises 92-ga polyester/2-mil polyethylene. The PET is reverse-printed flexographically.
"Alcan Packaging was already developing new steam-in bag technology, so we were both at the same place in pursuing steamable solutions for the marketplace," says Lakeside Foods' Joe Auchter, director of technical services. "Alcan fully invested itself in coming up with the right solution for us."
Functional qualities
Functionality was the first priority of the development team. "Number one, we needed a safe product, one that released pressure without the possibility of burns or injury of any kind," says Auchter. The new stand-up steam-in pouch features in-register, laser-scored steam vents with precise tolerances to ensure optimal steam release during microwave heating.
Allen liked that the package remains hermetically sealed until use, unlike competitive self-venting technologies that may rely on microperforations for self-venting.
A 12-oz bag of frozen vegetables is microwave-heated in about five minutes.
Another requirement of the new structure was the ability to withstand the rigors of the frozen distribution chain. Frozen packaging can become sensitive at below-zero conditions and can become brittle and fracture during transport. "To do a good job of steaming, you need to maintain structural integrity," says Auchter.
Beyond high-performance structural properties, Allen emphasizes the steamable package had to attract consumers and meet their meal preparation needs. "Our stand-up pouch maximizes the merchandising of the brand in the freezer case. When the consumer gets the product home, the stand-up format with tear notches at the top makes it easy and safer to handle," he says.
Given the velocity of new products and innovation in the frozen foods category, speed to market was essential. "Within several months, we were able to present the new packaging to our customers," reports Allen.
First application
The first market introduction was in March 2009. Lakeside Foods could not identify the private-label end user other than to say the regional products include 12-oz bags of frozen peas, beans, and corn. Notably, it was a new customer for Lakeside Foods.
Allen says the new format required "minor" modifications of the company's bagging equipment, which can handle down to a 3 1/2-oz size.
What has been the reception? "Our customers are very enthusiastic," says Allen. "We hope to use this bag to grow Lakeside Foods' business and our customers' businesses as well. The steamable, self-venting, stand-up pouch seems to be where the entire frozen vegetables category is heading."
-Rick Lingle

Companies in this article