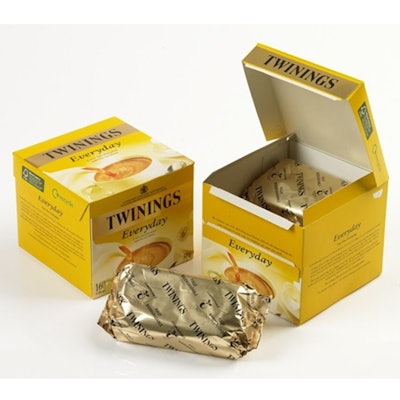 NatureFlex™ NM sustainable and compostable packaging film from Innovia Films (www.innoviafilms.com) has been chosen by Twinings of the U.K. to wrap one of its major tea products, Everyday.
"As a company, we are always looking at ways to lessen our impact on the environment. By using NatureFlex film as the inner wrap in this pack, it not only protects the teabags, but also makes it easier for our customers to reduce their waste through home composting," says David Parkes, Twinings.
NatureFlex was an obvious solution for the packaging, as the film begins life as a natural product - wood - and breaks down in a home compost bin (or industrial compost environment) within a matter of weeks. It also offers advantages for packing and converting, such as inherent deadfold and anti-static properties, high gloss and transparency, resistance to grease and oil, good barrier to gases and aromas, and a wide heat-seal range.
NatureFlex NM, the material used by Twinings, is a unique cellulose-based film that is manufactured from renewable wood pulp and metallized in-house. It is said to be the only metallized biodegradable film suitable for home composting because the level of metal is so small – less than 0.02%. This slows the film's degradation by a matter of days, but does not interfere with its biodegradability in any other way. Modified coatings ensure excellent metal laydown and adhesion providing a very high moisture barrier with a transmission rate of less than 10g/m²/day (38ºC, 90% RH). It is this high barrier that keeps Twinings Everyday teabags in premium condition.
ASP Packaging Ltd (www.asppackaging.com), also of the U.K., provided the certified compostable printing in this flow-wrap application for Twinings.
NatureFlex films are cellulose-based, derived from renewable wood pulp, and are certified to meet both the European EN13432 and American ASTM D6400 standards for compostable packaging. The wood pulp is sourced from managed plantations from referenced suppliers operating Good Forestry principles (FSC or equivalent). NatureFlex films typically have a renewable, bio-based content of some 95% by weight of material.
Companies in this article