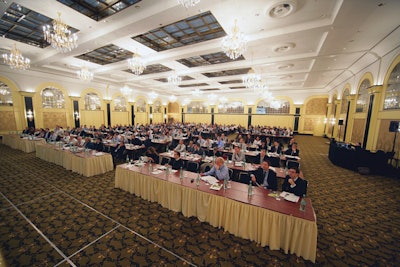 The event featured 22 exhibitors and approximately 300 delegates from 26 countries. Event organizer European Bioplastics, an association representing manufacturers, processors, and users of bioplastics and biodegradable polymers, reported that they expect significant growth in both the demand for bioplastics and investments in production facilities.
In a statement following the event, European Bioplastics said that the international production of bioplastics is expected to rise from 2006 levels of 150,000 tons to 2 million tons in 2011. The first of two keynote speakers at the event, Dr. Michael Stumpp, group vice president of BASF, said, "The bioplastics market has already become a considerable market, both on the retail and on the resin level. I am convinced that the market will grow quickly within the next few years." Armand Klein, Europe business director for Applied Bio-Sciences at DuPont, said in his keynote address, "We [industry] have to reduce our environmental footprint drastically. Renewably sourced materials, which are already available today, can provide for a step in the right direction."
Participants in a panel discussion on the question, "Is there enough land for bioplastics production?" said they believe that there is indeed enough land for all biomass applications. Bioplastics, panelists said, do not compete with the production of food products.
Andreas Pilzecker of the European Commission, Directorate General Agriculture, made it clear that biopolymers cannot be held responsible for the higher prices of agricultural raw materials. "Already in 2006, the European Commission assessed the anticipated impact of a 10-percent biofuel target on land use and grain prices and ascertained that the production of biofuels would only have a moderate impact," he said. "Bioplastics require a significantly smaller share of the agricultural production and are therefore even less responsible for a price increase." Michael Carus, director of the Nova Institute, agreed saying that currently, only 0.05% of European agricultural land is used to produce bioplastics.
More than 25 companies presented their latest materials and applications in the bioplastics sector. Speakers covered a wide range of subjects that included new packaging solutions featuring plastic film combinations for improved barrier properties and longer shelf life, improvements in compounds and additives, and technical products. Biodegradable films were described as an extremely promising area of growth. The date for the 2009 conference is still to be determined.
In December, the association released a position paper on life-cycle assessments for bioplastics. The paper outlines the opportunities and need for this life-cycle analysis as an analytical tool. The paper can be downloaded at www.european-bioplastics.org/index.php?id=191. More information on the association can be found at www.european-bioplastics.org
Companies in this article