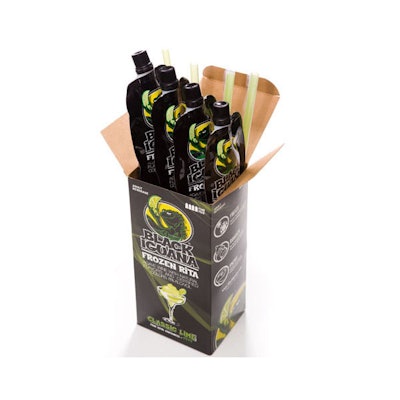 As cool as the lime-bearing cartoon lizard on the front of its packaging, DGI Beverage, LLC's Black Iguana Frozen Rita premixed frozen cocktail in a pouch makes margarita preparation and consumption convenient and portable. Introduced regionally near DGI's Tomball, TX, headquarters in 2007, the margarita-style beverage is now in more than 350 Texas locations and is set to storm other U.S. states this year.
DGI co-founder Paul Castor says that Black Iguana was introduced to adult consumers as an alternative to beer and wine that is quick and easy to prepare. "The consumer can now enjoy a margarita by just reaching in the freezer and pulling out a Black Iguana," he says. "It's that easy."
DGI chose a glossy, eye-catching pouch package to differentiate its drink from competitive products packaged in glass and plastic bottles. The pouch's flexible film construction—it is made from 12-micron PET/125-micron linear low-density polyethylene—allows consumers to easily store the product in the freezer until use and then to squeeze the pouch until its contents are slushy when ready to consume. Film is printed in five colors, with nine secondary color mixes by IPN USA (www.ipnmanufacturing.com).
IPN also supplies the polypropylene/polyethylene closure, a reclosable Clean Spout 106 XL fitment, made of a flexible material that prevents damage to the pouch when the package is frozen. The spout's internal diameter of 10.6 mm enables a straw to be slipped into the pouch for drinking, or the frozen beverage can be dispensed when the pouch is squeezed.
Capturing a hip and extreme lifestyle
As for the package's bold and entertaining graphics, they were designed by Aesbus (www.aesbus.com) to shout "hip lifestyle, extreme fun, and premium quality," says Castor. A black background is used to reinforce the Black Iguana logo and brand name and to "create an easily recognizable product image," he adds.
The 187-mL single-serve Frozen Rita beverage in Classic Lime and Strawberry is sold in a four-pack carton, a 22-pt clay-coated Kraft board with spot UV coating, from Abox Packaging Co. (www.foldingcarton.com). Carton graphics mirror those used for the pouch, with multilevel embossing employed for the Black Iguana logo. In stores, the product is priced from $9.99 to $12.99, depending on the retailer.
Companies in this article