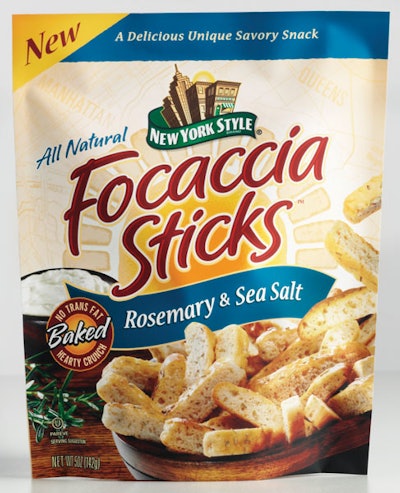 Supplied by C-P Flexible Packaging (www.cpconverters.com), the pre-formed, stand-up, resealable pouches are flexo-printed in 8 colors and incorporate color-coding to distinguish flavor varieties. The undisclosed packaging structure has excellent oxygen and moisture barrier properties, which preserve product freshness and extend shelf life up to one year.
New York Style marketing manager Bill Corcoran comments, "Consumers have responded very well to our new Focaccia Sticks. The graphics designed by Murray Brand Communications do a great job of standing out on the crowded snack food retail shelf and telling a story about the uniqueness of the product and its usage occasions. The resealable stand-up pouch allows us greater merchandising flexibility, and the packaging structure helps keep the product fresh longer."
New York Style Focaccia Sticks were introduced in retail outlets across the U.S. beginning in February 2008. Average retail price is $3.29 per 5-oz bag.
Companies in this article