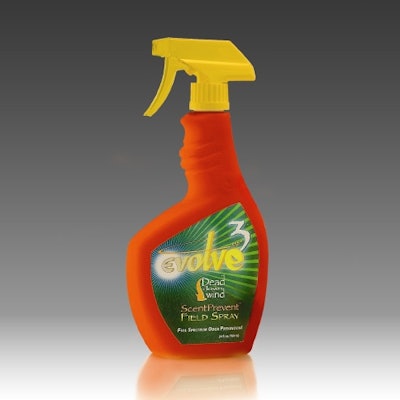 Dead Down Wind, Pleasant Valley, MO, manufactures products to help deer hunters suppress or eliminate odors (human, smoke, etc.) that might deter prey from coming into their kill zone. The company's new Evolve 3 Scent Prevent Field Spray, rolling onto store shelves during the Spring 2008, is packaged in 24-oz plastic bottles custom-designed by TricorBraun (www.tricorbraun.com), equipped with trigger sprayers supplied by Calmar (www.calmar.com).
The high-density polyethylene bottle incorporates a handle that is designed to look like an archer's bow grip. And the TS-800 Calmar Poly Pro sprayer has a unique inverted feature, enabling the bottle to be turned completely upside down without interrupting the spraying action.

The base material for the pressure-sensitive label, supplied exclusively by WS Packaging Group, Inc. (www.wspackaging.com), is called PromoPrism and is 2-mil thick polyester film with a clear over-laminate. The technically challenging labels incorporate complex, multicolor graphics with holographic, reflective rainbow characteristics.

The average retail price of the Evolve 3 Scent Prevent Field Spray is $12.99.

Dead Down Wind products and operations manager Jason Falbo says, "The feature we like most about this packaging is the user-convenient, inverted spray capability that allows the product to be sprayed upside down, over and over until the bottle is empty, without repriming."
Companies in this article