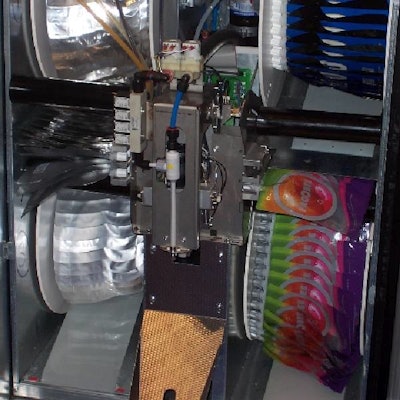 Rather than dispensing a mere 200 prefilled cans before having to be refilled by an attendant, a new concept from
WaterWerkz
(
www.waterwerkz.co.uk
) is based on filling packages on demand. The U.K. firm used the
interpack
(
www.interpack.com
) fair in Dusseldorf as a place to gauge interest in this new concept.
At the heart of the concept is the design of the injection-molded spout fitment. It includes a small hook that makes it possible to string pouches together like beads on a necklace. The pouches are then mounted around a drum that fits inside a specially designed vending machine (see photos, closeup at left and full image below). When a consumer pushes the dispense button, the machine pulls one pouch from the roll and positions it beneath a spout from which the proper amount of beverage concentrate and water are dispensed. When filling is complete, a threaded closure is applied and the pouch is then discharged.
Hensen Packaging Concept GmbH
(
www.hpc-machines.com
) is the firm that made the pouches being filled in the Hensen booth at interpack where the WaterWerkz concept was on display.
Adam Green, managing director of WaterWerkz, believes the novel vending concept holds a number of benefits, but none more impressive than this one: When cans or bottles are sold through vending machines, they're filled with ready-to-drink beverages that contain a good deal of water; but WaterWerkz greatly minimizes transportation costs by shipping concentrate in small corrugated bag-in-box packs and adding water on-site. This results in a much smaller carbon footprint.
The other key advantage is that restocking with new pouches is required after every 1,500 drinks purchased; with conventional cans or bottles, refilling is required after every 200 drinks purchased.
Green indicates that a number of beverage firms have expressed interest in the concept and that Nestle has a trial underway with a "concept brand."
Companies in this article